When I fell off of the Capital City News building during the Giggler's attack on our rooftop reception last month, I knew it was you that swooped up and saved me. I was an inch away from your face. I could smell your breath. You'd clearly been eating cinnamon Red Hots, which are your favorite. Doy. Total giveaway.
Also, what's with the gravel-y voice? It sounds like you've been gargling broken glass. You have a noticeable lisp whether you gravel up your voice or not. It's not much of a disguise and neither are your dopey glasses. When Tina Fey takes off her glasses, she doesn't disappear. No one yells, "Where'd Tina go?!" or "Hey, it's short Angie Harmon." The glasses make no difference: you look the same.
Quit ditching me at fancy parties — especially the ones at the Natural History Museum. Dinosaur bones are creepy as hell and I don't like being left alone with them. As soon as some quip spouting jack-off barges in with his gangly juggalo reject henchmen and starts demanding my jewels, you've split. And naturally, because I'm by myself, I get chosen to be the hostage.
This is bullshit.
You've been so busy being all tortured and dark that you haven't learned a damn thing about me. I know you like Red Hots. What's my favorite candy? Hmm? If you'd even pay attention to my desk (which you SHARE THE OTHER SIDE OF) instead of brooding silently at the window all day, you'd know I keep a jar of green Jolly Ranchers next to a photo of my dog, whose name is… You don't even know, do you? You don't know ANYTHING about me! I'm a bigger mystery than you are! My dog is Scrapples, my favorite show is Mythbusters, and I think the funniest word you can call a person who totally sucks is a turd.
I've been stealing art just to get your attention. Yup! The painting in my bedroom that you like? The one that you said 'looks like it's from an art book'? It's The Kiss, by Gustav Klimt, you turd.
You've been chasing 'that blasted art pincher' for over two months. It's me. Right here. You may be an inattentive, lousy boyfriend, but you're even worse at vigilante justice. What I don't understand is how the commissioner hasn't figured out who you are yet. Oh yeah, our city is in safe hands, fer sure. The Capital City Crime Retaliation and Police Deptartment. CCCRAPD. Crapped. Ha. Just got that. Idiots.
Whatever. We need to take a super-break. I'm staying at my sister's in Littletown. Your rocketboots are by the dryer (yes, I know they're rocketboots — THEY HAVE A SWITCH WITH A "ROCKET" SETTING — hella obvious). Scrapples is coming with me, not that you'd notice that he was gone.
One last thing. Your McFarlane Toys action figure has better abs than you do. Your torso looks like a sack of potatoes. There, I said it.
–Sharon
Lauren and Bailee are the creator and illustrator of PMS Adventures, a hilarious superhero/action comic, only on Comediva.com. Follow Cassie, Maya and Teresa as they fight crime once a month. Yeah, PMS is a bitch, but it can be a bitch that makes you a hero. Click the comic below to check it out!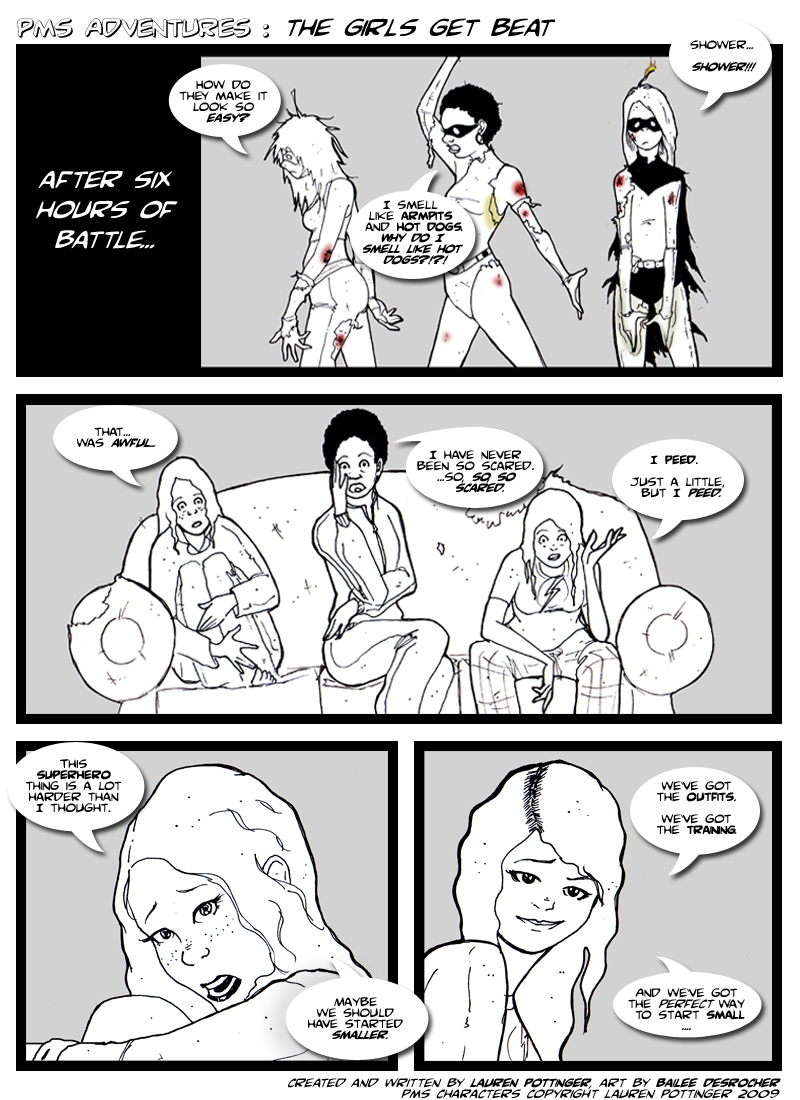 AROUND THE INTERWEBS