The best part of the holidays is curling up in your holiday PJs (you know, the ones with the snowflakes or ho ho ho's on them), noshing on some leftovers, watching a classic holiday movie, and harassing your family with funny Christmas movie quotes for the remainder of the holiday.  Here're a few of our faves!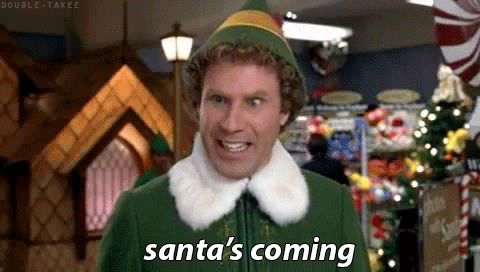 Buddy the Elf:  "SANTA! OH MY GOD! SANTA'S COMING! I KNOW HIM! I KNOW HIM!"
(ELF)
Mr. Parker: "He looks like a pink nightmare!"
(A CHRISTMAS STORY)
Clark: "Where do you think you're going? Nobody's leaving. Nobody's walking out on this fun, old-fashioned family Christmas. No, no. We're all in this together. This is a full-blown, four-alarm holiday emergency here. We're gonna press on, and we're gonna have the hap, hap, happiest Christmas since Bing Crosby tap-danced with Danny fucking Kaye. And when Santa squeezes his fat white ass down that chimney tonight, he's gonna find the jolliest bunch of assholes this side of the nuthouse."
(NATIONAL LAMPOON'S CHRISTMAS VACATION)
Kevin (imitating a mobster movie): "Keep the change, you filthy animal."
(HOME ALONE)
Marcus:  "You need therapy. Many, many years of therapy."
(BAD SANTA)
Little Girl: "Santa, how come your clothes are so baggy?"

Scott: "Because Santa is…watching his saturated fats!"

Little Girl: "How come you don't have a beard?"

Scott: "Because I shaved. Now, do you want this doll or not?!? Go back to sleep!"
(THE SANTA CLAUSE)
Howard: "I'm not a pervert! I just was looking for a Turbo Man doll!"
(JINGLE ALL THE WAY)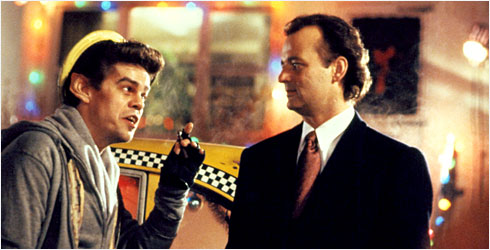 Frank: "I get it. You're here to show me my past, and I'm supposed to get all dully-eyed and mushy. Well, forget it, pal, you got the wrong guy!"

Ghost of Christmas Past: "That's exactly what Attila the Hun said. But when he saw his mother… Niagara Falls!"
(SCROOGED)
Ralphie: "I want an Official Red Ryder Carbine-Action Two-Hundred-Shot Range Model Air Rifle!"

Santa Claus: "You'll shoot your eye out, kid."
(A CHRISTMAS STORY)
Buddy the Elf (to a Mall Santa, AKA an imposter):  "You sit on a throne of lies!"

(ELF)
***
Love funny Christmas movie quotes? Try these Elf Pick-up Lines!
AROUND THE INTERWEBS