There are a lot of funny naked moments in movies. The bare human body is just a goldmine of hilarity.  Here are some of the most memorable.
1. Ken Jeong in The Hangover
How he didn't get leg cramps in that trunk, we may never know.
2. Bo Derek Naked on a Horse in Bolero
Maybe men look at this and think "hot," but women look at this and think "yeast infection."
3. Break-up Scene in Forgetting Sarah Marshall
Nudity at its most pathetic.
4. Premature Scene in American Pie
He should just be glad youtube hadn't been invited yet.
5. Whipped Cream Scene in Varsity Blues
One of the boldest and stickiest seduction attempts in the history of cinema.
6. "Naked Scene" in Austin Powers
Now this scene has no actual nudity. But the way they avoid it is pure genius.
7. Sex Scene in The Lion King
Ok, so these lions are technically naked the entire film. They are lions. But in that one scene when Simba and Na;a are adult lions rolling around in the grass, they are extra naked. Those are the sexiest sex-eyes a cat has given another cat. And if you don't agree with that, you have no soul.
8. Balls Scene in Borat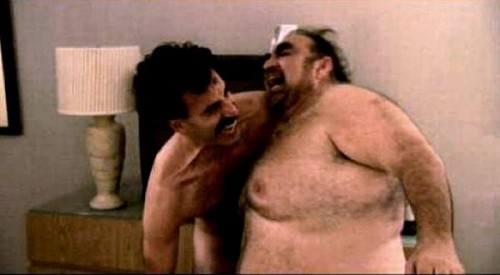 Balls. Balls are always funny. Balls draped on another man's face, however? Priceless.
9. Penises in Superbad
If the Pen-15 club actually existed, it would be this movie.
10. When the Nymphomaniac trailer was accidentally shown to children during Frozen.
Yep, that happened and it was hilarious.
***
Do you love naked moments? Then check out #NakedProblems!
AROUND THE INTERWEBS