Last week's victory for overperformer Bridesmaids was sweetened this weekend when it had an impressive hold not seen since Wedding Crashers,
dropping only 20 percent
from its opening weekend box office.
And on the T.V. front, the fall season is shaping up to be one of the best yet for women, and women in comedy.  Zooey Deschanel's hitting the small screen with her show The New Girl, and comedienne Whitney Cummings scored an unprecedented victory for ladycomedy when not one, but two TV pilots she created were ordered, including one that she stars in, Whitney.
The landscape has never been more exciting for women in comedy.
So in this new world, where funnygirls are shining left and right, I ask: Are there some recurring memes about women in comedy that we can finally put to rest?
"Funny is funny," I've been told.  If laughs reign supreme, then maybe funny is the great equalizer, and gals have just as good a chance as guys if they bring the laughs.
I went straight to the source and interviewed several funnygirls in stand-up, sketch, and improv to find out what it's like to be a female comedian, or should I say, comedienne, these days.
First, that word.  Comedian, comedienne… does anyone care if you call them one or the other?  For the most part, the funnygirls told me that they really didn't give a sh*t.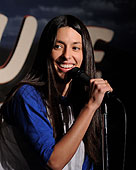 "Honestly, I don't really care.  Although once somebody said, 'You are one funny bitch,' and I thought that was pretty catchy," said Jade Catta-Preta.  Jade is a wickedly funny stand-up who's a regular fixture at rooms around town, such as the Comedy Store.  She also plays Frida Killho in The Divas.  "The label doesn't really matter anymore.  Funny is funny, I truly believe that," she added.
Some of the funnygirls were in favor of other, gender-neutral terms, like "comic" or "performer."  And most of them, unsurprisingly, don't take themselves so seriously that they'd make an issue of it.
"I sort of like being called an actress and a comedienne, because it sounds French, and the French are classy," said comedic minstrel goddess Nikki Muller.
So don't worry about offending the funnygirls with your choice of comedian or comedienne.  But the gender issue comes up more often than not when our gals are introduced onstage as "a lady comic," a "female comedian" and shudder, "a vagina?"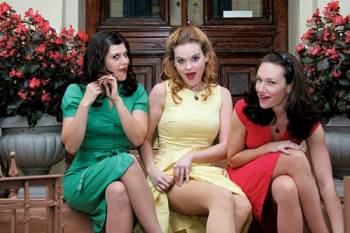 "Usually if a dude is hosting and I'm the first girl on stage it's, 'Are you ready for your first lady of the evening?'" said Kimmy Gatewood, of the one-of-a-kind musical trio The Apple Sisters.  "I mean, I guess it's a little strange because no one would necessarily say, 'And here's the first brown haired dude!'  No one's ever said, 'Here comes a vagina!'  If anyone ever says that, I would shiv them."
There are two distinct sides to this issue.  If funny is funny, then for women to truly be considered equals on the comedy plane, perhaps comics shouldn't be identified for gender any more than they are for brown hair.
However, several of the funnygirls told me that they didn't mind references to the fact that they are women because, well, they are.  The phrase "use what you got" came up more than once, and inevitably the female experience becomes part of their sets.
"At the end of the day, I AM ethnic and I AM a female and both of those qualities make me the quirky person that I am today, so I try to milk it," said Kosha Patel, a comic who manages to be a girl, and Indian, and funny, all at the same time.
And then there's the biggie: the misconception that "girls aren't funny."  The debate has grown so redundant, the trackbacks to Christopher Hitchens' hot-air Vanity Fair piece of 2007 have grown so tiresome, and I, for one, have been so spoiled with the rich talents of the funnygirls on Comediva.com that "girls aren't funny" is what sounds like the joke to me.
Does anyone in a post-Fey society honestly still believe that girls aren't funny?
And perhaps most tellingly, do any of our funnygirls still hear that tiresome catchphrase on the comedy scene?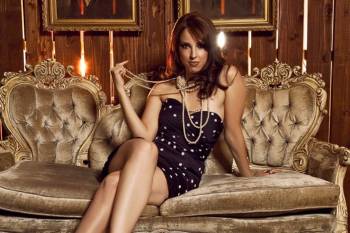 "No," Molly Prather, a fabulously funny regular at UCB and iO West told me.  "…And if they did, I'd assume they were just looking for a fight and I have better things to do.  Like breathe."
It may not be said outright, or it may not be said to their faces (for the fear of being bitch-slapped), but there's another kind of backhanded compliment that congratulates a comic for being funny… for a girl.
"More often than 'Girls aren't funny,' I've heard 'You're so funny… for a girl,' or 'You really keep up with the boys,'" said Kimmy Gatewood.
Perhaps what makes "girls aren't funny" so tiresome to all of us is that it's just a generalization.  Some girls aren't funny.  And some guys aren't funny.  And the comedy world still has more boys than girls in it, so our funnygirls have the numbers against them, and have to defy this misconception every time they hit the stage.  The tribalism of the comedy world requires all new comics to prove themselves before winning their peers' respect, but even moreso for women.  The perspectives these interviews gave me were so fascinating, we'll continue to revisit them as we discuss women in comedy.
What impressed me most about all the funnygirls I interviewed, though, was that they have the right attitude.  They're ready and raring to prove themselves, and don't pay attention to the haters who say "girls aren't funny."
"Lots of total idiots have said that!  I actually don't respond to general statements that aren't true.  It's like saying that all dogs are aggressive, all nerds are smart or all sharks attack," said Merrill Davis, a very funny stand-up who performs all over town and hosts a Twitter-based show called #Hashtag.  "Basically, most people who generalize are not very intelligent.  You can tweet that!"
What do you think, comedivas?  Can we put "girls aren't funny" to rest, once and for all?  What else can we do to change that perception?

AROUND THE INTERWEBS