I'm gonna be a real chick for a second here and confess that the marketing campaign for Bridesmaids hurts my feelings.

I should preface this with how excited I was to see this movie. (And I did see it recently, at a preview screening, but I'll save my thoughts on what this movie does/doesn't do for women in comedy for next time). A big, broad comedy about broads is right up my alley. An ensemble cast of hilarious women, getting to be hilarious women. I was so excited that I heard Kristen Wiig's co-writer Annie Mumolo speak on a women in comedy panel, read an early draft of the script, and when I saw the cast, thought, "FINALLY! A movie for ME!"

Wrong.
What this poster tells me is that this movie is not for me at all. Even Kristen Wiig, who I adore, and her talented lady castmates are swearing, "it's not a chick flick."1
And why do we women hate ourselves so much?2 Well, I've talked about self-deprecation in female comedy3 as a humor technique before – but for it to be truly empowering, we have to feel like the comedienne is mastering her vulnerabilities. So when the moniker "chick flick" is slapped on movies for women and portrayed as the definition of suckage – well, let's just say no one's laughing with us.
There's a business side of the film business that has to be addressed here – or the business side of the web business for that matter – which is about who shows up.
The film industry is built on a wide-release business model that relies heavily on opening weekends. If a film underperforms on opening weekend, it's a dud. Even though new data from the MPAA4 shows that men and women attend the movies in equal numbers,5 the film industry operates on a perception that one audience in particular shows up early and in big numbers: young males.
As a result, marketing campaigns for big movies like this one largely ignore us, and even go so far as to tell us our 'chick flicks' suck.
Do we girls think chick flicks suck sometimes? Obvi! All movies suck sometimes. But let's be honest, who doesn't love a good 'shoe-shopping montage' once in awhile? And who spent her childhood repeatedly watching Clueless on VHS?6 This gal!
But since I have seen the movie, I'll let you in on a little secret – spoiler alert – it IS a chick flick. Which is why I think marketing it as "not a chick flick" will hurt the movie in the end. You're telling chicks that our movies suck, and you're banking on hordes of dudes getting hooked by a poster of six women in hot pink dresses. Riiight.

See, unlike young males, we ladies like to take our time with viewing decisions. We wait for reviews and word-of-mouth to trickle in before seeing a film.7 Which makes perfect sense — in a rough economy, our practicality gets the best of us — we want to be sure a movie's worth our hard-earned dinero.8
Sometimes I just want to shout, "CONSUME, WOMEN!" I know from running a website for women that no matter how amazing our content is, no matter how much our friends tell us they love it, we can't succeed if women don't visit Comediva.com. If we want there to be content by us, for us, we have to SHOW UP. Because secretly, this is a movie for us, even if we are chicks.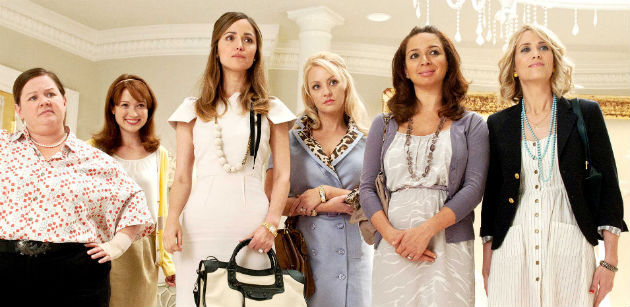 So please, ladies, see Bridesmaids. Show the world that we can show up. Homework: while you watch it, think about what it's doing and not doing for women in comedy. And then come back here and tell me what you thought.
Showing up is half the battle.

---
Footnotes & Suggested Reading:
1 Are Women Able to Find Success With Raunchy Comedies? (Hollywood News)
2 Ironically, the "Chick Flicks Don't Have to Suck" tagline comes from a woman's review of Bridesmaids. See what I mean?
3 The Last Laugh: What Makes Girls Giggle? (Comediva)
4 Theatrical Market Statistics, 2010 (MPAA)
5 Who Goes to the Movies? Moviegoers Stats from 2010 (IndieWire)
6 Also, Austin Powers with Spanish subtitles. ¡Portate bien!
7 Hollywood vs. Women (Entertainment Weekly)
8 This works against "our" movies too, like Sex and the City 2, which saw good numbers its first two days, then dropped off because of poor word-of-mouth.
****
AROUND THE INTERWEBS