Benincasa does not fail her readers in this stellar literary debut.  Though a newcomer to the world of print, Benincasa proves that she can seamlessly take what she accomplishes daily on the comedy stage on to the written page with the swift finesse of an old pro.  Her mastery over colorful storytelling seems unlikely for someone her age, but if you've ever suffered through a panic attack, you might understand that they come with a slice of wisdom that few can boast.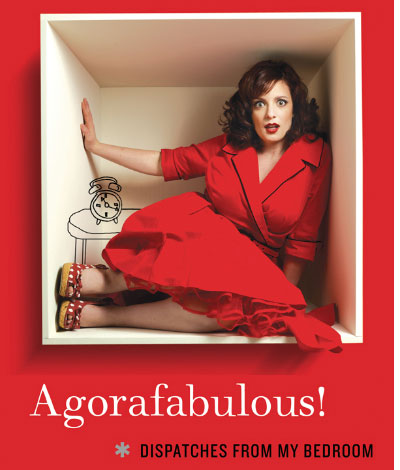 Order your copy now!
Flipping through the pages of her memoir, we can certainly sense that Benincasa's uphill battle with agoraphobia makes it feel as if she's lived a million lifetimes; or at least eleven, one for each heart-wrenching, yet hilarious, chapter in her book.   She uses her deliciously crude wit to take you on a journey from her battle with a demon-bitch of a Queen Bee on a high school trip to Sicily that incites her first overwhelming panic episode, to becoming a brilliant New York City comedian on the rise.  The voyage from one to the other comes with an exorbitant amount of soul turbulence and Benincasa leaves no detail to the imagination.
In a chapter entitled Bowls of Pee, no less, she has the courage to share with her readers the story of one of the darkest periods of her life.  Yep, you guessed it, a time when her agoraphobia was so all-consuming that she couldn't bring herself to go number one on a toilet, and hence, bowls of pee.   We know, you'll never look at a cereal bowl the same way again.   But it's this unabashed comedic confidence that allows Benincasa to truly communicate the gravity of her condition to an audience who, under different circumstances, would have shied away from listening.
Even while Benincasa recounts the painful day when her mother rushes to her college apartment to rescue her from her looming insanity, she's able to undercut dark reality with a stab of touching humor:"I saw a look of dismay very briefly flash across my mother's face before she rearranged her features back into Fake Happy-Time Mom Face.   You know the one — it's the expression every mom wears when family members who really suck drop by for a surprise visit, or when you ask her if she wishes she'd dated more before settling down.  Fake Happy-Time Mom Face is a brilliant mask.  I think they hand them out in maternity wards, along with pamphlets about not shaking your baby."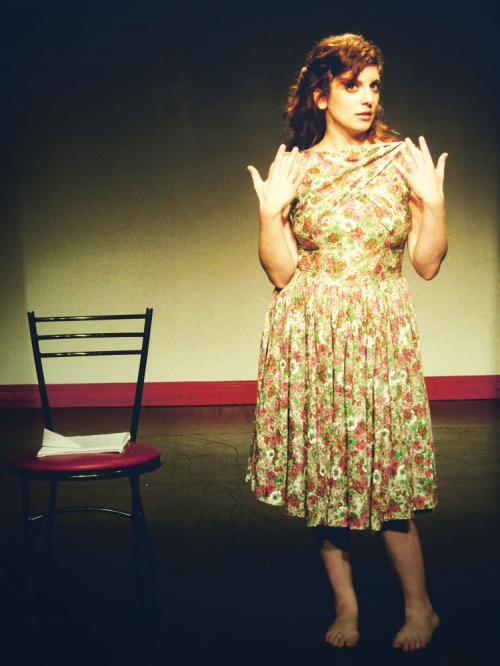 Photo Credit: BriAnna Olsen
The way Benincasa injects comic levity into her prose it's as if we're taking a satisfying sip of ice-cold water at the hottest point of a summer day.   We can't help but smile at how cleverly she lures us into her world; slyly telling it like it is while reminding us that yeah, despite her struggles, she's still a fucking awesome comedian, and don't we dare forget it. (Warning: Benincasa's book will plant in you the urge to type out confident expletives in hopes of expressing just how badass this read is to others.) As we go with Benincasa from panicked heartbreak to paralyzed fear to inspiring first steps, she gives us nuggets of sweet laughter along the way.   In My Hero, My Cuisinart, she champions the blender that allowed her to finally eat again after the harrowing experience of dropping out of college.  And we root her on as she goes from Cheerios to mooshy deliciousness in the form of peanut butter and banana smoothies.  Any other storyteller would have left us with pangs of empathetic despair, painfully hoping for the best, but Benincasa, instead, literally gives us recipes for how she reinstated her sanity.
Lazy-Ass Lassi
Organic plain or vanilla nonfat yogurt with that good bacteria
Organic mango chunks (fresh or frozen)
Celtic sea salt
Ice
Instructions: Whir this shit up until it reaches sufficient levels of subcontinental Asian-tinged awesomeness. Feel free to break out in choreographed dance moves whilst singing at a super-high pitch. (Racism!)
If nothing else, read Agorafabulous! for the smoothie recipes.  Granted, there are only three, but you've never seen smoothie recipes like these before.  (We actually suggest the author take on a cookbook next.)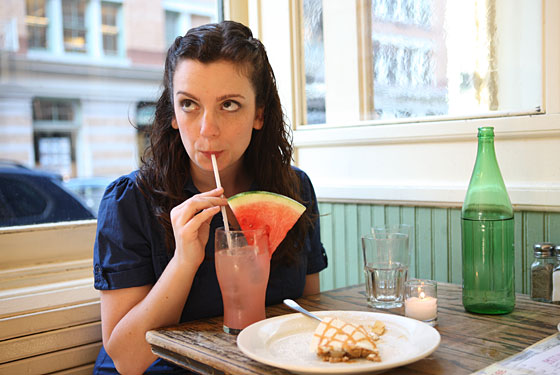 Photo Source: newyork.grubstreet.com
With chapters entitled Om Mani Padme Fuck You, we can guarantee that this book is nothing like what you've experience (especially nothing like Elizabeth Gilbert's Eat, Pray, Love, thank you, sweet Jesus).  Benincasa allows us to experience a mental breakdown and a journey through spirituality that even the most cynical of atheists can happily subscribe to.
"When I entered Emerson College, I found myself with a pagan roommate.   She told me ooky-spooky stories about passing an invisible ball of energy around with her friends, which I would later discover was a common beginner's level improv comedy game."
And as Benincasa harnesses the bravery necessary to perform her first stand-up routine after all she's overcome, we, as readers, get to experience the same sweet satisfaction that Benincasa does upon hearing the rush of laughter she justifiably receives.
When all is said and done Agoraphobia! will leave you gladly willing to share your story of struggle with loved ones, and in some cases, even perfect strangers.  You'll feel a sense of courage you've never felt before, because if Sara Benincasa can survive peeing in cereal bowls to become one of the comedy industry's rising stars, we can, without doubt, valiantly step out into our worlds prepared to battle our demons to seize sweet victories as well.
—-
Read our Q&A with Sara Benincasa here.
Sara Benincasa is an award-winning comedian, writer, blogger, and podcast host, as well as the writer and star of the one-woman show Agorafabulous! She frequently contributes opinion pieces to CNN.com and was a citizen-journalist for the 2008 MTV News Choose or Lose Street Team.  She hosts the Web series Gettin' Wet with Sara Benincasa and the popular podcast Sex and Other Human Activities.  She travels the country to speak about mental illness and women's issues at universities and conferences.  She lives in New York City.
Agorafabulous! Dispatches from My Bedroom is now available for purchase.  Please visit SaraBenincasa.com for more about Sara.
AROUND THE INTERWEBS