PMS RAGE: YOU WON'T LIKE ME WHEN I'M ANGRY
You will no doubt be sent into a PMS fury while getting jostled about in the crowds on the exhibition floor, and as much as you'd like to, you can't sock your fellow geeks in the face (although, for the record, they can take a punch), so try a Darth Vader style death grip and 'force' choke them. It'll get thepoint across. Or set your phaser to "Don't touch me" or "Get out of my way." You know what? Just punch 'em.

FOOD
Low blood sugar + blood loss = somebodyf*ckingfeedmeNOW!!! Pack a snack (something in the way of a Milk Dud) so you don't go all Bane on every Batman in sight, snapping them over your knee and whatnot. Also, downtown is chock full o' pubs, bub, on every street corner. So get a brew and some cheesy fries and pipe down. Save your rage for the DC reboot. Winky emoticon!
PERIOD FARTS
You know what? We nerds are smelly. Especially in the San Diego heat. Let 'er rip. No one will know.
CRAMPS
AAAAAAAAAAAAAAAAAAGH! SHUT UP, JUST SHUT UP!!!

PLUMBING: WHEN YOUR DEATH STAR TRASH COMPACTOR STARTS TO LEAK [worst euphemism formenstruation ever]
Not packing pads or tamps? Sorry, I thought I'd try an abbreviated, cool name for tampons but it's still stupid. My bad. Anyway, without protection, you're primed for leakage — what do you do, punk? What do you do?! You make a bee line for the Walking Dead photo op display and pretend to be a dead body for a sec. Also, it's a great way to take a nap in the middle of the Con. Or opt for a red costume, like Elektra or Deadpool. Steal a cloak from a passing Jedi. Say someone stabbed you in the vagina.

By Quantum's Leaps, the possibilities are endless!
BEARS
You're not likely to run into any real bears at Comic Con, but it never hurts to keep a whole salmon on hand, should you need to provide a distraction.
POLAR BEARS
Aw, fuck, polar bears?! How am I going to get a penguin or a snow fish or whatever they eat in time for SDCC?! Gah!!!
TIME TRAVEL
You can also travel back in time and tell your past self to schedule her birth control so that your period doesn't fall during Con week. The paradox is worth the risk. You can travel to and from with Sam Beckett, but he doesn't have any say where he ends up, so unless you want to get stuck in a Driving Miss Daisy parody or wake up in the body of Hitler, forget it. Marty McFly is semi-retired from time-travel… I say hitch a ride with The Doctor… who for all we know, may have been an OBGYN back on Gallifrey.

Lauren and Bailee are the creator and illustrator of PMS Adventures, a hilarious superhero/action comic, only on Comediva.com. Follow Cassie, Maya and Teresa as they fight crime once a month. Yeah, PMS is a bitch, but it can be a bitch that makes you a hero. Click the comic below to check it out!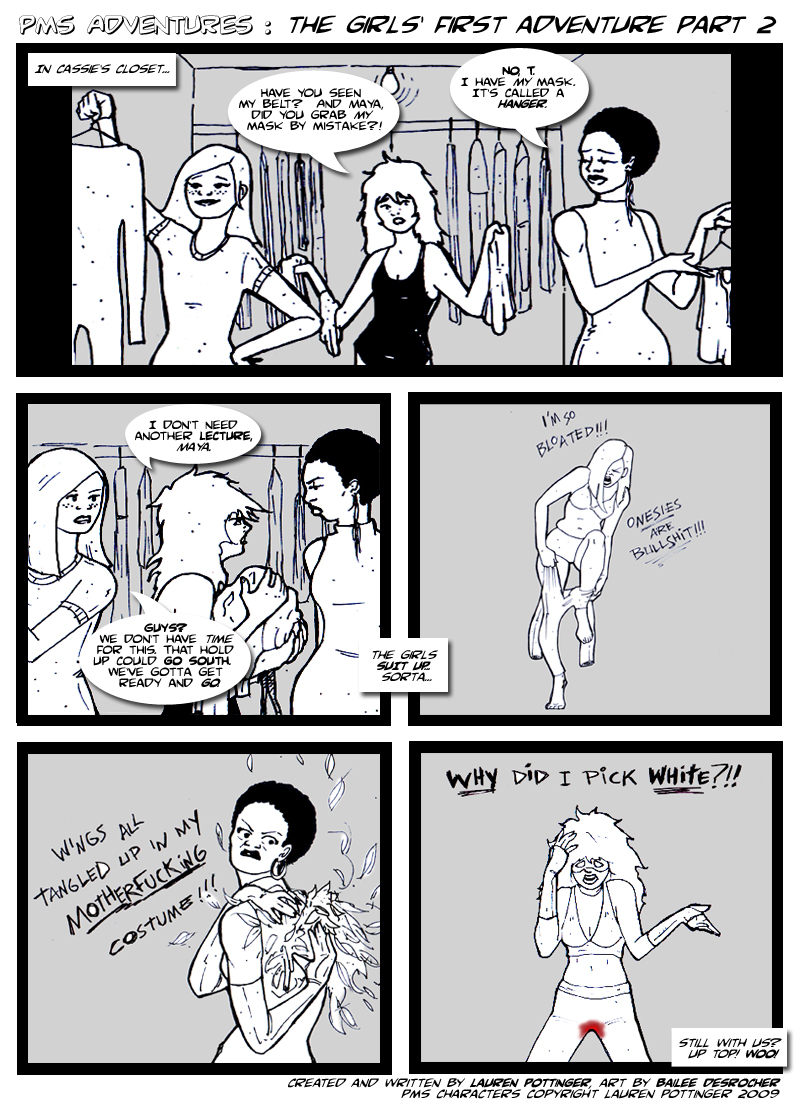 AROUND THE INTERWEBS