When you think of Aerosmith frontman and American Idol judge Steven Tyler, you probably recall a few things: classic songs like "Dream On;" Armageddon; and his face lines.
Indeed, those distinct markings on his face — which we won't refer to simply as "wrinkles," as all rock legends are ageless — aren't unlike the lines fortune-tellers use to read our auras and predict our futures. Ergo, given the lifetime of a-typical experiences Tyler's had, there's no denying the source of the face lines in question.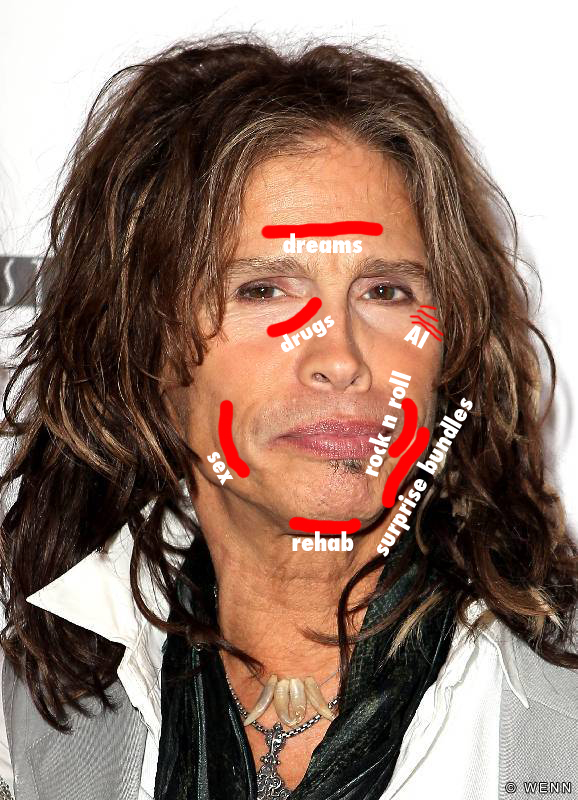 The Sex Line
All rockers have groupies, and smokin' hot wives — and Liv Tyler, if anything, is proof, a Sex Trophy, of Steve's hot night with hottie model and singer Bebe Buell. And given the legend's sexy voice and status, you can bet there were plenty more. So that smile-wrinkle is pretty telling. The longer the line, the more of a lucky bastard you are.
The Drugs Line
Along with groupies, another rockstar motif is drug-consumption. Sunken eyes are typical results from usage, so the permanent lines under Tyler's pair are indicative of years worth of illegal trippin'.
The Rock 'n' Roll Line
Obvi: Steven Tyler's got over four decades of hard rockin' under his belt; that's crazy devotion to and success in something that makes him [almost] as happy as sex. Ergo, the closeness to the smile. And the heavy rigidity.
The Dream Line
One of Aerosmith's most memorable hits was "Dream On," a classic all about following your dreams. Brace yourself for some cheese: figuring out what you wanna do and following through don't come easily. Surely the career Tyler's had was littered with various obstacles and heavy thinking. (At least it was "gouda" cheese.)
The Surprise Bundles Line
Line-length = how many "surprises" you and your boo(s) might have. And Tyler's had a couple. A few. More.
The American Idol Line
What does a rockstar do when his hero-status band is long gone? He hosts something. In Tyler's case, it's the decade-old American Idol, which probably doesn't necessarily play to his hardrock sensibilities. The number of lines = how many attempts at keeping busy one makes, particularly through pop-music shows.
The Rehab Line
When you hit rock-bottom, it's time to make some changes. This line indicates the likelihood of surviving such changes. Thankfully, Tyler's is, again, super rigid and the entire length of his chin, which is a sign of success.
AROUND THE INTERWEBS