Let's keep it real. The hottest thing on Modern Family is Sofia Vergara. To give you an idea of how hot Sofia is: whenever she comes on-screen I put on a sports jersey and crack open beer — and I'm a gay man who once hosted a PowerPoint presentation of "The Top Ten Hottest Men of 2006" in his college dorm room. (The winner that year was Jake Gyllenhaal, in case you were wondering.)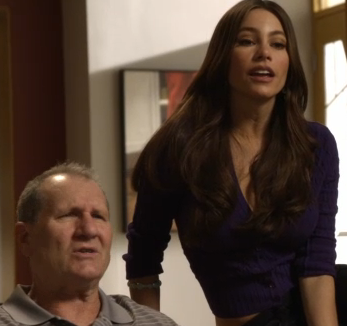 On Modern Family, Sofia plays Gloria, who is hilarious, smoking hot, and compassionate. It's because of this triple threat that this comediva is making gays and ladies across the country sincerely question their sexuality.
Last night's episode of Modern Family featured Gloria offering her sympathy to a dog trainer named Guillermo. Guillermo needs Gloria's help pitching a business idea to Jay, her husband. Guillermo sported some early '90s glasses and a min-mullet. (Do you have any clue as to why the producers decided to have In The Heights' Lin-Manuel Miranda dress up in "serial-killer" chic?)
Jay points out Gloria's track record of bringing strangers like Guillermo home to help them out.
Awww! Great legs AND a big heart?
You got us all hot and bothered, Sofia. Stop it.

While Gloria and Jay take a seat, Guillermo brings out what I first thought was a dildo for lesbian dog lovers, but it turns out it was just a "Good Doggy, Bad Doggy Training System." As Guillermo explains, "the training system" is a cylinder filled with treats: one set of treats is given to the animal when it's bad, and the other set of treats is given to it when it's good. (Ahhh, so it's a dildo for lesbian dog lovers who are into S & M? I see. Please continue.)
During the pitch, Sofia keeps encouraging Guillermo and suggests they celebrate his big idea by buying handbags.
Awww! Great fashion sense AND flawless comedic timing?
Sofia, we would so do you right now.
Jay breaks it to Guillermo that his big business idea is a big dud. Guillermo cries and reveals he's been working on his idea for five years (the amount of time I've been working on my idea for a spy flashlight that turns on when the spy gets caught in a jungle net trap—I call it Net-flix.) When Guillermo leaves the house heartbroken, Gloria scolds Jay for being harsh and decides to adopt Guillermo's dog before it ends up in the dog pound.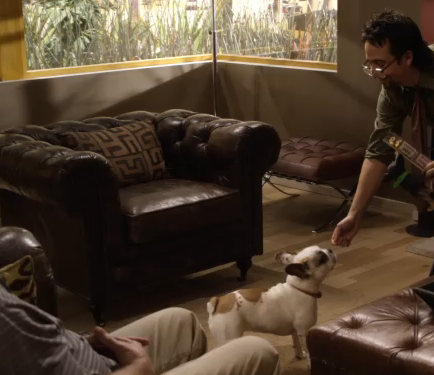 Awww! She's got great hair AND is an animal rights activist?
Sofia, you make us want to write a haiku expressing our love for you, spray that haiku with perfume, stamp it with our lipstick, and send it to you via homing pigeon.
The show ends with Jay agreeing to adopt Guillermo's dog, and Gloria accepts Jay, even if he's not strong enough to say "no."
Awww! She's open-minded AND accepting of 90-year old effeminate males?
That's it: Sofia Vergara, will you gay marry us?
AROUND THE INTERWEBS