Yafit Josephson's one woman show "New Eyes" is proof you don't have to fit the mold to succeed in show business. Having run in Los Angeles for 15 months and with an upcoming engagement in New York, the hit play (written by Yafit and Suzanne Bressler) is a fascinating adventure through the modern immigrant experience. Crafting a tale that ranges from an Israeli army boot camp to a sound stage in Hollywood, Yafit tells her life story with the conviction and passion of a soldier defending her homeland. While the structure of the play is tangled at times, Yafit's commanding presence and expert impersonations kept it moving along briskly.
Seen as "a whiny poodle" in her native Israel, yet a doberman in Los Angeles, Yafit struggles to reconcile the two conflicting images of herself. The advice of an LA plastic surgeon that she should get a nose job runs smack against her mother's admonishment that, "that's the most important part of your face! It's like giving away Jerusalem!" The 1st AD on a large budget picture is the perfect foil for Yafit's boot camp instructor, both having their own sets of rules. The former is unquestionably ridiculous while the latter turns out to be life-saving. Yafit masterfully slips in and out of each of her characters, providing keen insight into her predicament.
Whilst I would not characterize the show as a comedy (the thematic climax of the play is an attack on her Tel Aviv barracks), Yafit has the physical prowess and comedic timing of a giggle goddess. She never fails to highlight the humor in her journey. Demonstrating her yoga skills, or lack there of, she contorts herself into a knot and asks the audience, "This is supposed to relieve stress?" It's vindication for anyone who's ever questioned the fitness mantra of Hollywood. Her impersonation of her mother, doting and nagging all in one fell swoop, is heartfelt and hilarious, reminding me of a loud forceful version of Jiminy Cricket, the kind of conscience that never lets Yafit forget for a second she should be who she is. It's hard to believe with her comedic gifts that the amiable and agile Yafit is usually type-cast as a "terrorist." We can only hope to see more of her comic brilliance in the future.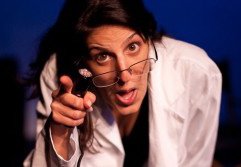 Source: dorchadashla.comThe enthusiastic performance mostly masks the weaknesses of the show, including a plot that at times feels jumbled and dialogue that is too on the nose. But overall, Yafit's challenge to cast aside notions of what it is to be an Israeli in America, is one her audience heartily welcomes. New Eyes is a strong rebuke to stereotyping and proof that Yafit was born to play, in her own words, "her dream role": herself.
AROUND THE INTERWEBS