Puppy Love: Movie Dog Romances!

Now that's what I call "puppy love!" Onscreen pups have been plentiful across the history of cinema, but which pups deserve to cameo in each others' love lives?



♥♥♥



Marley (Marley & Me) + Lassie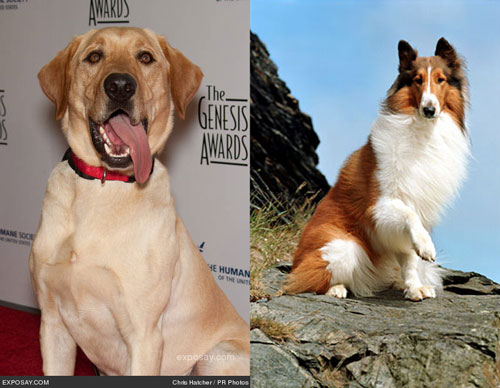 Lassie and Marley are the Brad and Angelina of the dog world. Gorgeous, famous — these two are bound to adopt 6 adorable mutts and go around bragging about their "pawfect" blended family.
Odie (Garfield) + Trixie (Lady and the Tramp)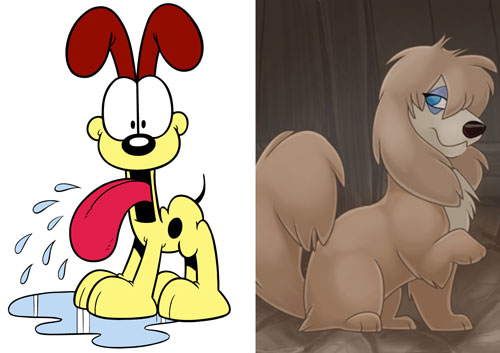 It's no secret that Odie's a virgin, and Trixie's clearly been around the block (and to the pound!) a few times, so this is bound to be the hottest age-inappropriate pairing since Courteney Cox's show stopped being about cougars.
Beethoven + Hooch (Turner & Hooch) + Hercules (The Sandlot)




These three are the hottest new polygamist "bear" couple of the gay dog community!
Fang + Fluffy (Harry Potter)




I know what you're wondering — is Fluffy, the three-headed dog from Harry Potter, a girl or a guy? Here's the answer — two of the heads are female, one is male.* A little bit of everything for Old Fang, who needs some spice in his puppy chow ever since Hagrid started paying more attention to dragons and giant spiders than his faithful old boarhound.
* Yes, I made that up.
Lady (Lady and the Tramp) + Charlie (All Dogs Go To Heaven)




When things don't work out with Tramp, Lady rebounds with the OTHER hottest bad boy dog — Charlie from All Dogs Go To Heaven. Of course, this drives Tramp effing bonkers with jealousy, and he rebounds with the type of bitch that Lady is most threatened by. No, not Trixie…
Rita (Oliver & Company) + Tramp (Lady and the Tramp)




…Rita. Rita's a street-savvy, svelte, woman-of-the-world that Lady will never be. She and Tramp scamper around the streets together, and she even gets him to chime in on a few song and dance routines. Once the music dies, though, Tramp realizes he misses his Little Lady and their pups, and the two reconcile over a plate of spaghetti and meatballs.
Chance (Homeward Bound) + Precious (Silence of the Lambs)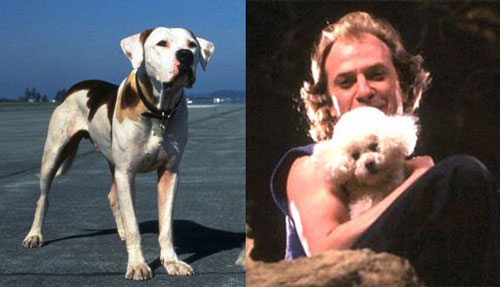 A fun-loving party dog like Chance is exactly the kind of relationship that Precious needs to get over the dungeon days with her former master, Buffalo Bill. The two take an incredible journey into nature, where Precious learns to take a "chance" on love!
Toto (Wizard of Oz) + Bruiser (Legally Blonde)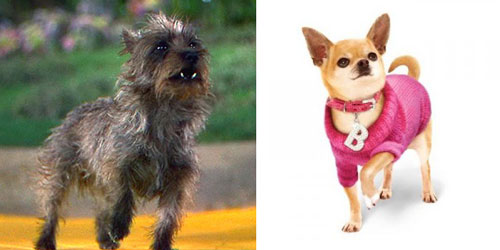 Like her master, Elle Woods, Bruiser tends to be a little high-maintenance. Enter Toto, a spritely terrier who knows all about good taste in shoes — ahem, ruby red slippers? And he's dealt with a witch or two in his day. These two are a match made in tiny toy dog heaven.
Zero (Nightmare Before Christmas) + Snowy (Adventures of Tintin)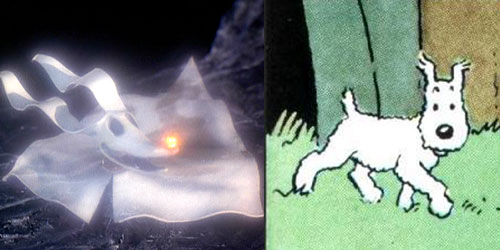 Sick of following Tintin around the world on his egomaniacal escapades, Snowy decides to rebel and run away to Halloweentown, where he meets Zero, the hottest undead dog in town. The two quickly develop a friendship that evolves into a lustful bad romance, then go to California to get gay-married before the Supreme Court can say anything about it!

♥♥♥


So there you have it! I suggest these pups share a bone or two (tee hee, innuendo!) and get to know each other better. Puppy love is imminent!
AROUND THE INTERWEBS