Every year, People Magazine votes one man in the world as the "Sexiest Man Alive," based on the rigorous scientific criteria of "was he in a movie the editors of People saw that year?"  Our pick?
Emmy-winning actor Peter Dinklage.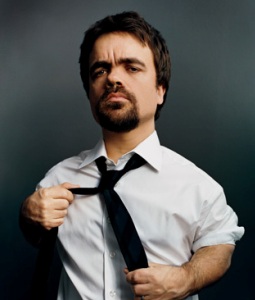 That's right, Peter Dinklage, the versatile 4'5″ actor who has been in just about everything, from Narnia to Nip/Tuck.  Dinklage is the man we want to see gracing the cover of this year's People as their number one Sexiest Man and here's why: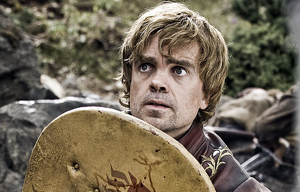 5)  Peter Dinklage Is Seriously Sexy
Unless you have died inside, the moment you saw Dinklage's picture in this article, your heart gave a flutter and your arms went out to embrace the computer screen as if you could take the man in your arms and hold him there forever.  Dinklage plays the sensitive, wounded type to perfection, whether he's the romantic lead in films like The Station Agent, or the tragically misunderstood anti-hero from TV shows like Game of Thrones.  He's dark and handsome, he's got piercing blue eyes, he's got a voice so deep James Earl Jones would weep, and he's a vegetarian because he doesn't want to hurt animals — are you convinced yet?
4)  Have You Seen Game of Thrones?
Have you?  Because you cannot tell me that you've watched Game of Thrones and still question our decision to declare the phenomenally talented and funny actor the Sexiest Man Alive.  Okay, so this isn't really a cogent point as much as it is a plug for Dinklage's Emmy-winning performance in the hit television series, so let me try again with number four.
4, Part II)  Peter Dinklage Is Incredibly Talented
From The Knights of Badassdom to Death at a Funeral to Elf to 30 Rock, not only has Dinklage succeeded in one of the world's most competitive industries, he has held onto his integrity by refusing to play the demeaning sidekicks that are usually the only roles actors with dwarfism are able to get.  Dinklage is a serious actor who has charted his own path in an appearance-obsessed field, and if he can win over the hearts of Hollywood insiders and the American movie-going public, he certainly can win Sexiest Man Alive.
Also, the man can act at you with his eyes.  His eyes.
3)  Peter Dinklage Knows How to Handle His "Sword"
Nudge nudge, wink wink, knowwhatimean?  Seriously, the man plays characters that fight with swords a lot, which means he is in crazy good physical shape (see above, re: Peter Dinklage Is Seriously Sexy).  Also, according to Peter Dinklage, his porn name would still be Peter Dinklage.  What else do I have to say to convince you?
2)  Peter Dinklage Was Almost the Sexiest Man Alive In 2003 and 2006
That's right, the editors at People Magazine recognized Dinklage as one of the men who almost made the cut for the Sexiest Man that year — for two solid years.  Labeling him the "Indie Sensation" of the group in 2003 and "Sexy At Any Height" in 2006, People recognized the wit, charisma, and good looks of the actor more than once.  We love him, they love him — so what's the hold up, People?
1)  Peter Dinklage Charms Us Just By Being Peter Dinklage
While past Sexiest Men Alive have ranged everywhere from handsome 30-something actors to handsome 30-something children of Presidents (seriously, John F. Kennedy Jr. was Sexiest in '88), the big thing they all have in common is their charm, and no one charms like Dinklage.  He handles himself with grace and humility, speaking frankly about his work and his height while at the same time making us laugh about his experiences.  Peter Dinklage handles his life and career with boundless humor, and, as we all know here at Comediva, nothing is sexier than a man who can laugh at himself.
AROUND THE INTERWEBS