This season of Jersey Shore has been snoozeville. Sam and Ron aren't constantly trying to claw each other's eyes out. Snooki is in a seemingly committed relationship. The Situation, for all his trying, can't produce an ounce of drama in the shore house.
Hey, MTV producers! Here are fifteen plot suggestions that would surely spice up this boring run!
One: The Situation Becomes a Hipster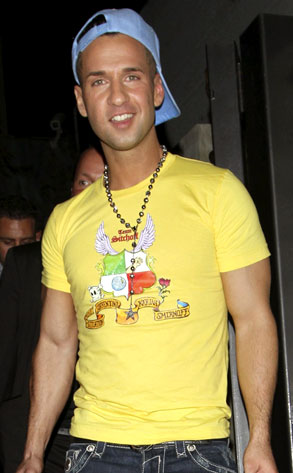 In order to impress a cute Lit major, The Situation channels his inner artiste. He trades in his guido rags for skinny jeans and cardigans. The rest of the roommates come home one day to find the fridge filled with PBR and nothing else.
Two: Snooki and Deena Give Up Alcohol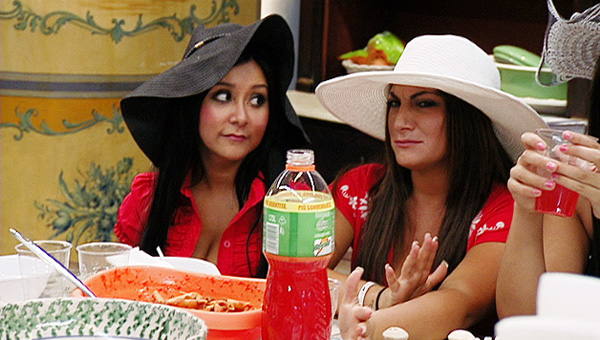 When the meatballs decide to dry out, MTV producers intervene, spiking Snooki's pickle juice with gin. Deens falls off the wagon shortly thereafter.
Three: Ron and Sam Get Married in Atlantic City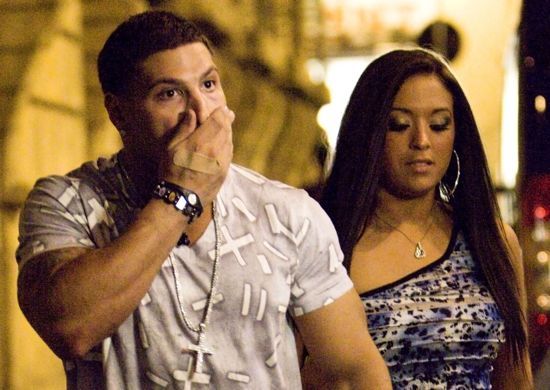 It's a very Jersey wedding when Ron and Sam drunkenly tie the knot in the A.C.
Four: JWoww Announces Her Candidacy for Mayor of Seaside Heights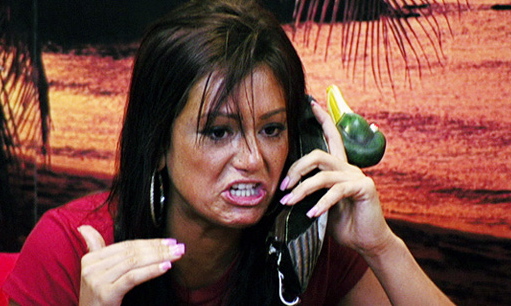 JWoww promises her future constituents that she will lower taxes on tanning beds and abolish all open container laws.
Five: MTV Producers Add an Unlikely New Roommate: Dr. Drew Pinsky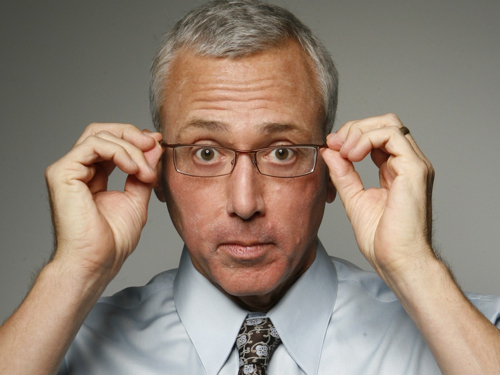 After failing to reform his hard-partying roommates, Dr. Drew gives up on the mental health profession and becomes a coked-up male stripper.
Six: An Anti-Guido Hate Group Surfaces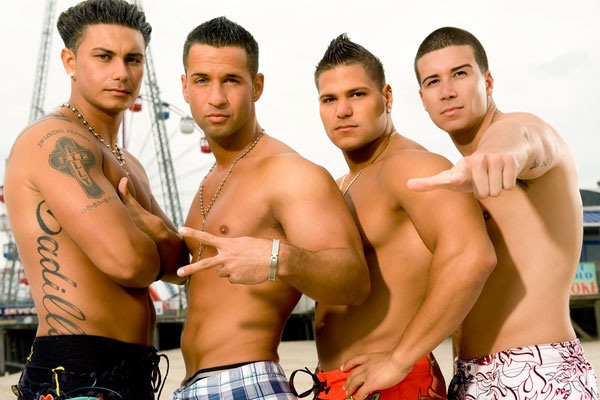 A mob burns a cross — fashioned out of empty vodka and tanning lotion bottles — on the shore house stoop. Nothing says ratings like a good ol' fashioned hate crime.
Seven: Deena Auditions for a Local Play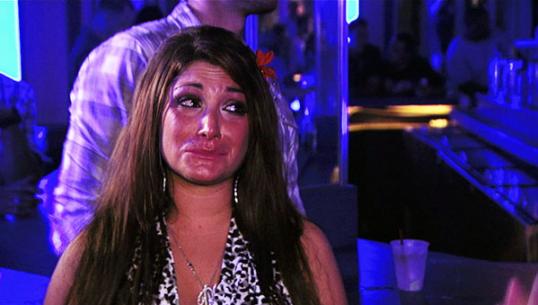 Deena gets cast as Helen Keller in a local theater production of The Miracle Worker. She immediately plots to move to New York to become a "serious actress."
Eight: A Meteor Hits Club Karma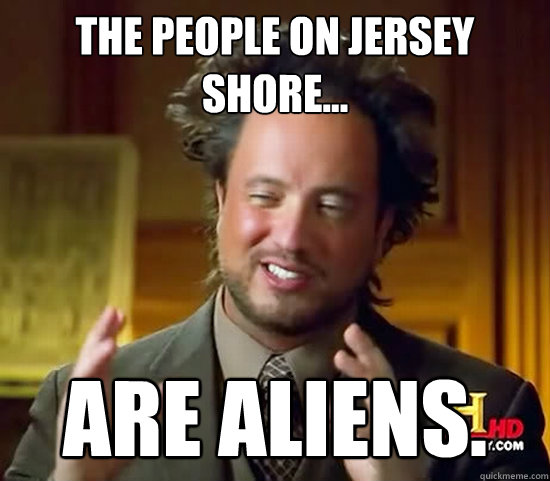 While the roommates are beating up the beat at Karma, a small meteorite strikes the club's roof. When an alien substance drips off the space rock onto JWoww's knockers, the CDC is called in and Karma is quarantined.
Nine: Vinny Gets Bitten By a Werewolf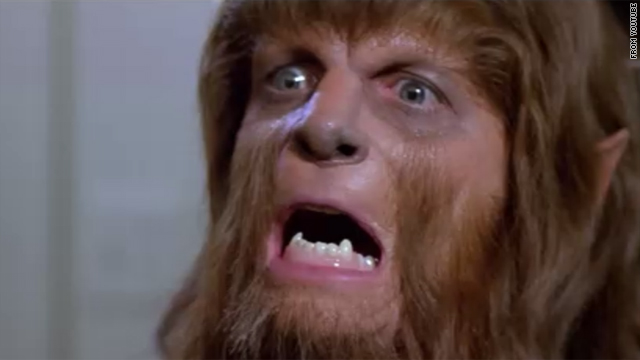 Vinny reveals that by "anxiety disorder" he really means "lycanthropy." Vinny contracted the wolfy disease after after taking home a particularly hirsute chick who was both DTF and DTB (down to bite.)
Ten: Pauly D Comes Down with a Case of Dissociative Identity Disorder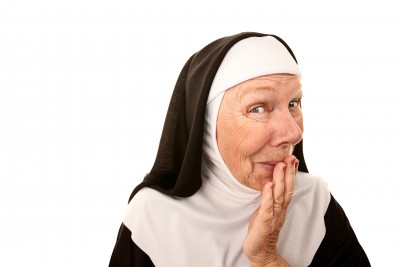 Pauly D suddenly suffers from split personalities; his alter ego is a Trappist nun named Gertrude.
Eleven: Ron and Sam Explore Latex Fetishes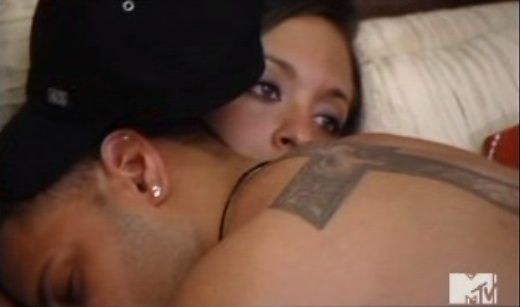 Bored with their seemingly healthy relationship, Sam and Ron decide to shake things up by converting the Smoosh Room into a latex sex palace.
Twelve: Deena Gives Birth in the Hot Tub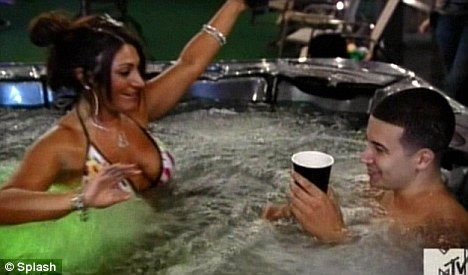 In an I-didn't-know-I-was-pregnant scenario, Deena pops out a kiddo while relaxing in the Jacuzzi.
Thirteen: Vinny and Pauly D Finally Bang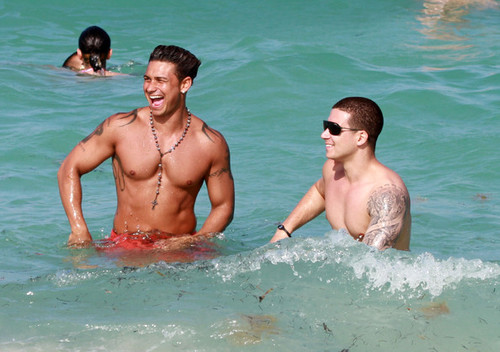 After a drunken night of horsing around, Vinny and Pauly D get it in … each other.
Fourteen: MTV Volunteers the Roommates for the Peace Corps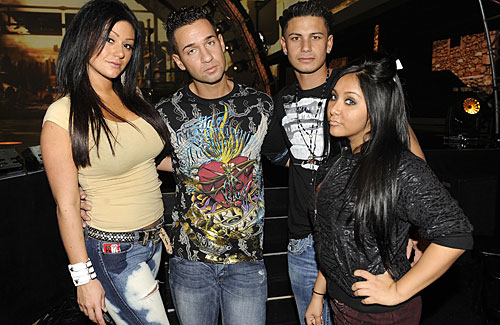 After Danny fires the roommates from the Shore Store, MTV announces they're sending the reality stars on a humanitarian mission to Somalia.
Fifteen: Snooki and Jionni Murder a Hobo Just for the Thrill of It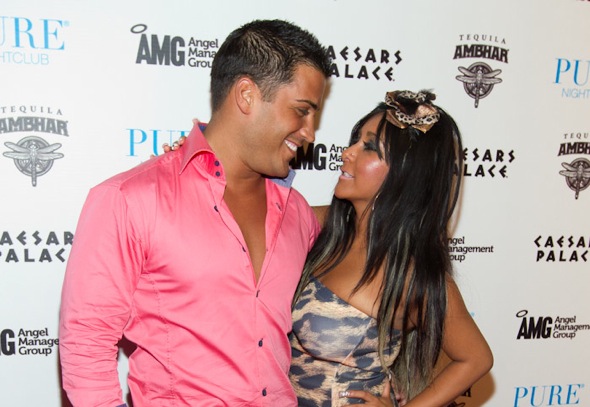 MTV is forced to cancel Jersey Shore after Snooki and Jionni make the FBI's Most Wanted list.
AROUND THE INTERWEBS