Are you using Amazon.com responsibly…or do you need to put down the mouse and slowely step away from the computer?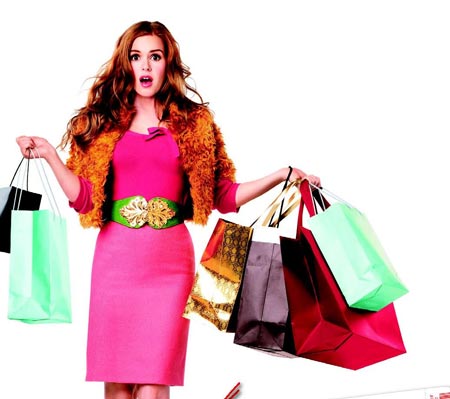 Take this quiz to find out!
Do you like to shop?
a) Love it. Let's go to the mall. I'm hungry for a pretzel anyway. Mmm salty.
b) I don't mind Target's 1 dollar section. BUT ONLY THE DOLLAR SECTION. I go no further into that perilous trap of a store.
c) Farmers' markets are my special place.
d) Does surfing PeopleOfWalmart.com count?
e) I shop all day long…online.
What was the last item you purchased from Amazon?
a) An original Furby.
b) AXE body spray for that douche I dated in college.
c) I sometimes order non perishable food, movies, and AA batteries.
d) This computer I'm surfing on is brand new from Amazon!
e) Something was just delivered from Amazon! Want me to check and see what it is?
How do you feel about the color brown?
a) I dunno…poo?
b) Boredom. Malaise. Ennui.
c) Crunchy, crunchy Autumn leaves. Mmm…hot lattes.
d) Hot UPS guys. Mmmmm…dudes.
e) OMG I CANNOT WAIT TO OPEN THE BOX. GIMME THE BOX. GIMME THE BOOOOOX! I WANT THE MOTHERFLIPPING BOX NOW.
How often do you check your mail?
a) I don't even know where my mailbox is.
b) Only when my grandma sends me birthday checks
c)Once a day.
d) I check Facebook messages often. Does that count?
e) Every hour
What did you do before Amazon.com existed?
a) Pretty much the same thing I do now.
b) Guess I spent more money on gas. But less money on postage.
c) Went to the mall way more than I do now. Does Spencer's Gifts still exist?
d) Huh. I don't really remember. That was a long time ago.
e) DO NOT SPEAK OF THE NEVER TIMES!
What do you think of when you hear the word "Amazon?"
a) The rainforest.
b) Big, strong ladies.
c) Xena, Wonder Woman and four or five UPS guys hanging out, drinking beers.
d) The best website ever.
e) Peace and love.
Where would you go for toilet paper if you realized you were out?
a) That would never happen; I get 20 rolls at a time on my weekly Costco runs.
b) I'm not above asking the neighbors for a few squares.
c) Um. The grocery store or the 7-11 across the street?
d) I'd Google "how to make T.P. at home."
e) Guess I'm not crapping for 2-5 business days.
Mostly As: Did you know you can get ANYTHING delivered from Amazon? You should try it sometime.
Mostly Bs: You've never heard of Super Saver Shipping have you?
Mostly Cs: Wow. Congrats. You have achieved balance in your life. Order yourself some cookies from Amazon.com to celebrate
Mostly Ds: Better watch that bank account. Amazon bills sneak up on ya. Also, maybe spend less time online. The world's a beautiful place. Check it out sometime.
Mostly Es: It's time for an Amazontervention!
AROUND THE INTERWEBS