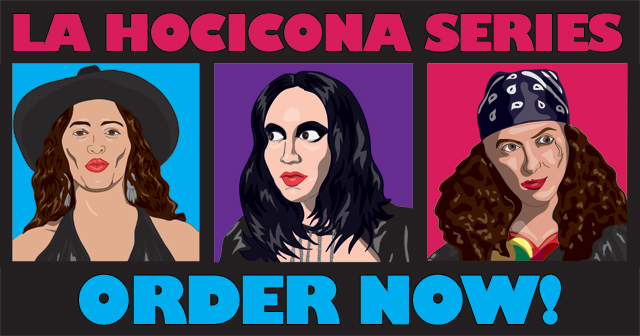 LA HOCICONA SERIES, written and performed by Adelina Anthony, is an original X-X-Xicana Comedic Triptych where, in signature style, Adelina blends stand-up comedy, monologue, zany characterizations, and sprinklings of performance art moments in three distinct solo comedies. In these intensely bold, highly theatrical, and hilarious Spanglish shows, our performer intertwines Xicanismo, the queer, the feminist and everything else that matters for those of us working toward progressive politics and practices. Each solo show is a full-length comedy that stands on its own, but the three were conceived to be in conversation with each other. For this reason, the premiere of the series had La Angry Xicana?! play on Fridays, La Sad Girl… on Saturdays, and La Chismosa!!! on Sundays. It was an invitation for the audience to spend a weekend immersed in marathon-style Xicana performance and rite. This compilation DVD, directed by D'Lo, has excerpts of all three shows.

$19.99
(Plus S&H and where sales tax applies.
No refunds after DVD has been shipped.)

For use in universities, colleges, schools, public libraries and government agencies, please email your purchasing or screening visit request to: booking@adelinaanthony.com. For purchase of the educational use of the DVD, please visit the artist's store on her website.
Warning

: This DVD intended for the really intelligent masses and its contents have been known to cause severe headaches, heart palpitations, and cramps for Republicans, homophobes, and fundamentalists.

For purchase of the full texts, visit www.adelinaanthony.com or www.korimapress.com.
La Angry Xicana?!
weaves together critiques on Hollywood, the U.S. corporate media, purported lesbian gang epidemics,
The L Word
, conservative politics, health issues, religious icons, post-welfare life, and the semi-sacred courtship that happens only among queer womyn of color.










La Sad Girl… talks about everything from ultra-dramatic break-ups to good old fashioned BDSM; she also turns the political tables on homophobia, higher education, anti-immigration, and Xicanas who date by tribe, all the while keeping up with her numerous "therapy" sessions.











La Chismosa!!! is the tear-drop Xicana who "kills" her audience with "critical locura" that juxtaposes migratory border issues, Xicana-Indigeneity and pop culture, Facebook chisme, single motherhood, tokenism, mental issues for Xicanas and another take on provocative issues of sexuality.



Praise for Adelina Anthony's work:
"Adelina Anthony is my Chicana Dave Chappelle." — Cherríe L. Moraga, author and cultural activist

"Smart, hilarious and sharper than a chola's eyebrows. Adelina Anthony will make you laugh so hard, it'll ricochet in your panza and have you bent over in pain grasping for air. This is what critical comedy looks like." — Lorenzo Herrera y Lozano, Publisher at Kórima Press

"Adelina Anthony is equal parts artist/academic/activist/comedian/dominatrix, making her a formidable presence. Adelina's shows are one-of-a-kind experiences–thought provoking and inspiring–and when she goes off script and focuses her crosshairs on us, the audience, we laugh and we're terrified, but we love it." — Kim Yutani, Programmer at Sundance Film Festival

"OMG! I love love love Adelina's work. She's so hilarious! I LOVE HER. If I can't have her, nobody can–not even her girlfriend!" — Random Lesbian Stalker at Yikes!
AROUND THE INTERWEBS