Welcome to our Giggle Goddess feature, where we celebrate the work of kickass funnygirls [and dudes!] by letting them speak for themselves! This time 'round it's comedy troupe Political Subversities, who bring on the hilarity through intelligent, politically minded satire.
Stalk them on Twitter, Instagram, Vine (@PoliticalSub), Facebook, YouTube, Tumblr, and their official site.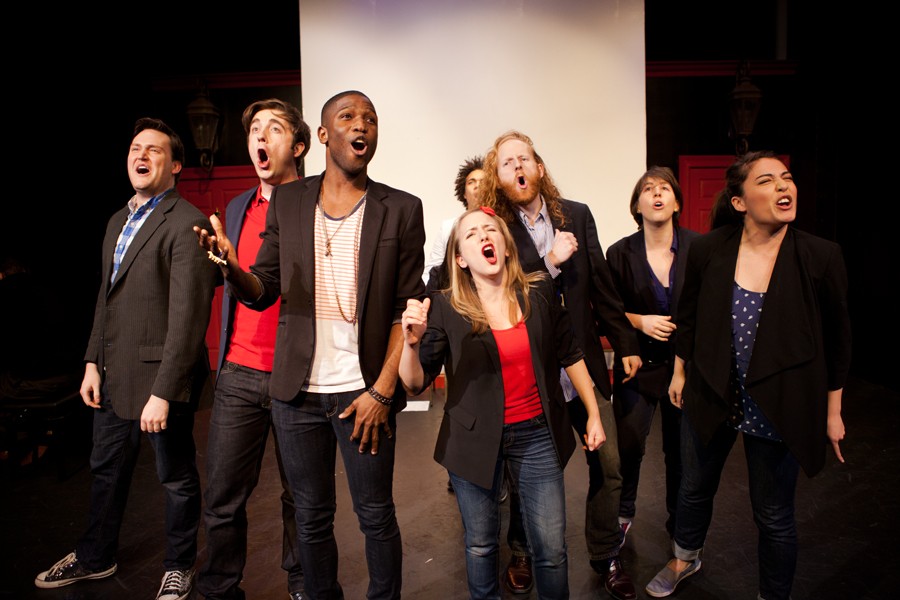 If Chuck Norris were to corner you in an alley and challenge you to a duel, what would be your weapon of choice?
A handful of Macadamia nuts. We don't know much about Chuck Norris, but we're assuming the only weakness he could possibly have is a severe tree nut allergy.
When did you decide to pursue a career in comedy? Who/What inspired you to take the plunge?
I'm not sure that words like "decide" and "pursue" apply to our preoccupation with comedy. We're all in comedy now by way of weird comedy magic that was sprinkled on us in the '90s. That's when we all grew up, watching Hanging With Mr. Cooper and Saved By the Bell, TGIF, and SNICK. It was a time when comedy didn't take itself so seriously. It might sound preposterous coming from a bunch of political satirists, but I think we're trying to rediscover that '90s' carefree sense of joy.
What would be your super power?
Todd Briscoe – Twinkle Toes, with the ability to distract you with his footwear then kill you with his smile
Andrew Butler – Super Ginger, with the ability to blind evildoers with one toss of his long, silky, red hair
nicHi douglas – The Line Cutter, with the ability to do everything two minutes faster than you because she nevers waits in line
Matt Gehring – The Tackle, with the ability to tackle anything to the ground–even paper
BGOODMAN – Wig Man, with the power to wear wigs and look like a woman but still really look like a man
Stephanie Hsu – Woodwork, with the ability to carve things out of wood, but then, like, not sand it down, and then give you splinters
Briana James – Fro, with the ability to conceal large objects in her mammoth afro
Cyndi Perczek – Kale Bag, with the ability to unleash fermented kale snacks at any time; the kale is good for you but it smells like butt stuff
Preston Martin – The Giggler, with the ability to make you sustain a light giggle for hours
Emma Tattenbaum-Fine – Wee One, with the ability to fit in even the tiniest space
Shaina Taub – The Died Piper, like the Pied Piper but more lethal, and OMG not for children, only for rats and bad guys
Ian Axness – The Swinton, with the ability to look like Tilda Swinton's son … or identical twin (brother)
Annie Tippe – Hypno-tators, with the ability to control your mind, and like tell where to stand on stage and stuff
Andrew Neisler – (same as above)
Jenna Dioguardi – Insta-Damn, with the ability to take really cruel pics of you on Instagram
How would you describe your style of comedy?
Absolutely Absurd. If it weren't for the fact that we're supposed to write political humor, we'd be writing about vegan cheese and fish farts.
Does your comedy appeal to a specific audience?
I think we can proudly say that our comedy doesn't discriminate; it's an equal-opportunity employer.
What would you say to your Little You, if the Doctor showed up and took you back in time?
Write everything down. Everything.
What's your dream job/role to play?
We would host the Tonys if they asked us.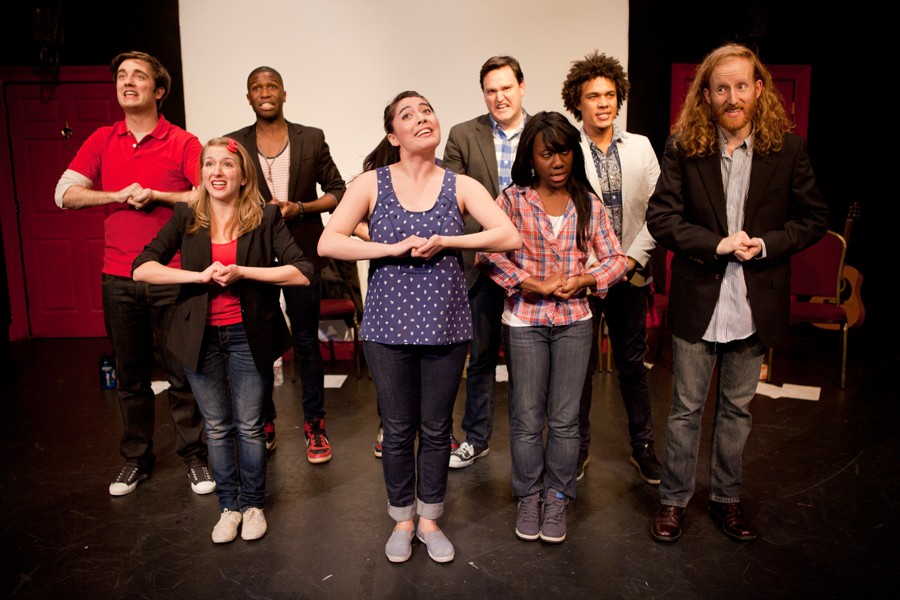 Which movies/shows/performances have made you think, 'Man, I wish I'd made/done that'?
Chappelle's Show.
Who's your favorite BAMF girl, real or fictional?
Hillary Clinton, duh.
Have you ever felt discouraged or afraid? How did/do you overcome those obstacles and fears?
Yes, of course. And we welcome the fear and discouragement, and the questions that accompany those sorts of feelings; the "why me?" and the "is this really happening?" and the "what is my life?" They remind us that we have a life at all. We'd rather face fear and discouragement alive, than … the alternative. Life is an awesome gift. We've all been alive for at least two decades. Happy, sad, scared, or otherwise, nothing is better than that.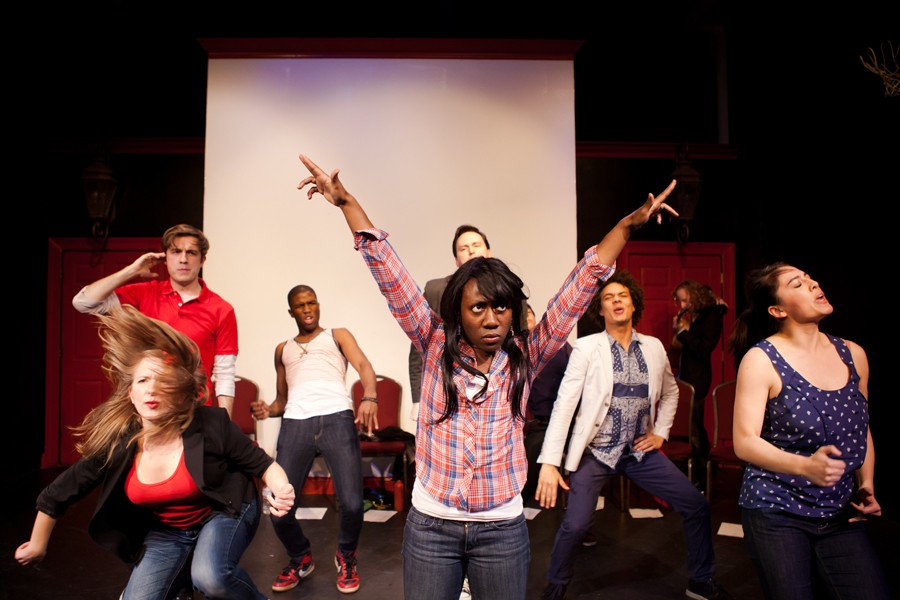 Don't be modest now — you're Giggle Goddesses, after all — so what would you say is your greatest strength as comedians?
Our greatest gifts are content and timing. As we mentioned, writing for PoliSub has forced us to narrow the variety of topics we have to choose from when we each sit down to write material. As a result, we're left with strange, sad, and/or surprising discoveries to write about. We try to do each topic justice, remembering that merely mentioning some of the stuff we write about could be considered offensive. I think the fact that we make people laugh at some of these painful truths about society and the people who run our country is truly remarkable.
As for the timing, well our Directors (Andrew Neisler and Annie Tippe) have been known to slap our hands with a ruler if we go too slow. Or was that my piano teacher…?
What would you call your autobiography?
We Blame You
****
And an excerpt from that autobiography:
Political Subversities creates comedy about politics, culture and current events through a live show, a satirical blog, and a YouTube channel. Political Subversities serves up a spectacular roast of politics and pop-culture; a barrage of satirical sketches, political love songs, gangsta raps, Broadway-worthy show stoppers, and cultural assassinations. Tight harmonies, sharp choreography, smart writing and a cast that actually represents the country they love to rip to pieces, makes Political Subversities a must see!
The group has been performing live on a regular basis since 2009 at venues like Joe's Pub, Ars Nova, 92Y Tribeca, UCBT, The PIT and even on MSNBC. The show was conceived in 2006 by Obie-winning, Tony-nominated composer/writer/director Elizabeth Swados. Political Subversities' YouTube Channel features sketches, characters and music videos that have been featured on Huffington Post, Gawker, Comediva, The Apiary, BuzzFeed, Ology, and countless other blogs and sites.
Photos © Sasha Arutyunova 2012
AROUND THE INTERWEBS