Welcome to our weekly Giggle Goddess question and answer session with a comedienne who's making waves on TV and the stage as a lady who's interviewed the likes of Jennifer Coolidge, does a killer Michael Bay impression, stars in Fanboy Funhouse, and so much more! That's right, it's none other than badass funny-lady Jennings Roth Cornet!
This Q & A will take you deep within the depths of her soul … sorta.
Connect with Roth on: Twitter and her official website.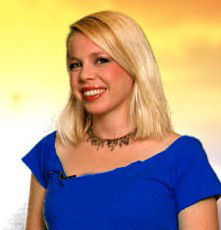 What's your favorite cupcake flavor?
Chocolate doused in chocolate, set on fire with a chocolate flame and then rescued with a chocolate foam fire extinguisher. Sprinkle of cinnamon.
Who or what inspired you to pursue a career in comedy?
So many people. Honestly, I was this very earnest kid who would ask, "But what happened to Jesus?" at the end of a joke and when I discovered that making my mom laugh got my brother out of trouble 12 times out of 10… I adapted. So, mostly I'm just trying to stay out of jail, subconsciously.
What's been your favorite comedy project so far?
COMEDIVA. Seriously, I do love the communal spirit of this site and what it's all about. The truth is a lot of comedians feel they need to be unpleasant when they aren't performing. I have no idea what that's all about. But what I love about Comediva is that it is a group of really good people, who also happen to be incredibly talented, innovative and good at what they do.
Can you tell us a bit about your new web series starring Michael Bay?
How much do I love doing Michael Bay? As much as Michael Bay loves explosions, helicopters and money! Some friends of mine and I did a "Michael Bay directs Harry Potter" video where I was meant to do a brief intro as Michael Bay, and it just ended up taking me over. I love doing this character so much because I can do and say absolutely anything, and get all my crazy for the week out in one five-minute swoop. No, I can't. There's not enough Bay in the world for that. But still, it's nice.
If Chuck Norris were to corner you in an alley and challenge you to a duel, what would be your weapon of choice? What would be Michael Bay's weapon of choice?
Me: Irony.
Bay: Complete and utter lack of irony. He would suck Chuck Norris into an irony vortex where he would have to dwell in humorless lack of self-deprecation forever.
In other words, I would get my ass kicked, and Michael Bay would drop him off at Steven Segal's house where they would all have fondue.
What are some challenges you've faced since going down the comedy track and what, in your experience, has made those obstacles worth overcoming?
I think that my own insecurity, time management and watering the horse (bills, food, gas) obligations have been a distraction.
There's just something so satisfying about laughing and amusing yourself and sooo deeply satisfying about making someone else laugh.
There's nothing better. Okay, sex (when it's good).
What's the funniest thing you've ever heard/seen?
Wait, am I sober in this scenario?
Which comedienne, dead or alive, would you love to work with/meet?
Oh mmaaan! I mean, Tina Fey, Amy Poehler, Kristen Wiig, Gilda Radner, Carol Burnett (who I interviewed the other day!), Amy Sedaris, Jane Lynch, Cheri Oteri, Lilly Tomlin, Leslie Mann, Madeline Khan, and so many more that I am forgetting right now…
In what ways do you think you've improved or evolved since your first comedy venture?
Well, I still kind of wonder what happened to Jesus. But, I'm willing to accept that salient information is what's going down with the rabbi and the monkey.
What long-term/short-term goals do you have for your career?
I'd love to build the Bay channel and start doing some man-on-the-street videos as well. Long term, I'd love to master political comedy. Comedy that's socially relevant because I tend to get really serious when talking about the issues I feel passionately about. I'd love to bridge that gap the way Colbert and The Daily Show do because I actually feel like that is the most effective way to communicate — with humor (as evidenced by my brother's "do my Mick Jagger impression and get away with the beer cans in the potter" prescient). I'd also kind of like to interview Michael Bay AS Michael Bay with the gopher from Caddyshack as my Ed Mcmahon.
Do you have a specific audience to whom you play/would like to play? Describe that audience, and why/how you're playing to them.
Hmmm, I think in a way, an audience like my mom, my brother and my two best friends growing up. My brother is a real guy's guy, ex-marine, so I'm happy when I can make that person laugh.
But I also love it when I can make the ladies laugh. My friends and family tended to be very sarcastic, curmudgeony New Yorkers. So, they would like outrageous, absurdist things, with seemingly random associations. And that's what I like. I think when that works, it's amazing.
When you're not writing/performing/youtubing comedy, you're…
An entertainment journalist. I interview filmmakers and write about movies for a living, in addition to the other writing and performance-based work I do.
What's the difference between appealing to women and appealing to men?
I honestly don't think there is. I think the only distinction that comes in is in the case of say "The Hangover," which I thought was hilarious, but was probably less connected to because the female characters were bland cardboard standees. I think what "Bridesmaids" did was illustrate that the humor is the same, and also how to give both the male and female characters dimension and something to do. Chris O'dowd and Jon Hamm were fantastic in that film.
What's your favorite comedy movie or T.V. show of all time?
IMPOSSIBLE. (Little known show from Iceland in the '60s. It's about a couple of hapless hitchhikers making their way to Europe only to discover they're on an Island.)
The title of your autobiography?
So That Happened
****

And an excerpt from that biography:
Jennings Roth Cornet is a creative artist whose films, commercials and other produced works have been broadcast on network tv, cable and the Internet; as have her on-screen theatrical and hosting performances. Roth currently works as a staff writer for entertainment news outlets such as Screen Rant and the AMC movie blog. She freelances doing both written and on-camera coverage of red-carpet events, press junkets and celebrity interviews. In addition, she works as a writer, producer and actor on the AT&T sponsored comedy web-series "Fanboy Funhouse" on Craveonline.com where she puppeteers a mercurial, and oddly lascivious, brain in a jar; and does a variety of sketch characters. She began her career in NYC where she trained as an actress with the Meisner technique at the William Esper Studio. After beginning her college career at NYU, she transferred to Loyola Marymount University in Los Angeles to complete her film degree. While there, she worked as an associate producer for documentary films, and by the time she was a senior had: Directed actor Martin Sheen in four national PSA's, become a member of the Dean's advisory board, the Kodak international student advisory board, the academic honor society, and co-produced a documentary feature that went on to screen at the Cannes film market and win two Telly awards.
AROUND THE INTERWEBS