W
elcome to our weekly Giggle Goddess question and answer session with a comedic actress whose career is inspirational and currently blowing up! That's right, it's none other than the hilarious Deborah S. Craig of Broadway,
Hart of Dixie
and our latest Comediva Original,
Pinsanity!
Connect with Deborah on Twitter, Facebook, YouTube, FunnyOrDie and Pinterest!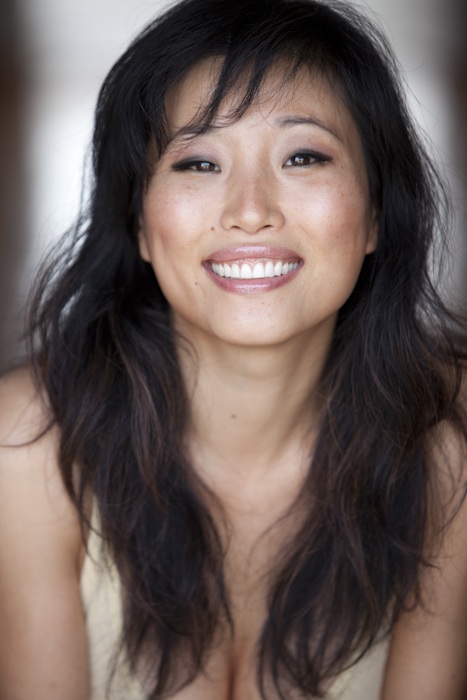 What's your favorite cupcake flavor?

Yellow cake with vanilla buttercream frosting! Ugh, now I'm suuuuper hungry.
What or whom inspired you to pursue a career in comedy?

My whole family (The Craigs) is very very silly. My father was an ELCA minister whom loved making puns and telling jokes during his sermons. He was always encouraging me to "write" better jokes! Even as a toddler. My Mom still laughs at everything I do. She's my best/worst audience! I also have two older brothers whom also live to laugh! So, definitely my family. Oh and my 6th grade teacher Mr. Coords! He was the first person whom let me tell jokes to my class! When I made jokes in class and they laughed, I felt beautiful for the first time in my life!
If Chuck Norris were to corner you in an alley and challenge you to a duel, what would be your weapon of choice?

I would use my boobs to distract him, then punch him in the face! And then hug him, because Chuck Norris is awesome! Then I would ask him if he would give me a deal on his Total Gym because it looks very thorough and all I have is a treadmill.
What are some challenges you've faced since going down the comedy track and what, in your experience, has made those obstacles worth overcoming?
Comedy is unforgiving. People either laugh or they don't. And when they don't I feel lik sh**, and then I go home and bake a cake or roast a chicken while watching Eastbound and Down until I feel like I can be the birthday clown I believe I was meant to be! Although sometimes I wake up thinking I need to buy a jet ski… anyhoo, it is tough being an Asian American female who does comedy because there is a cultural expectation that Asian American ladies are uptight, type A dragon ladies, or super shy and studious, or just not funny and/or prostitutes, sorry I meant to say and/or exotic prostitutes. Not many comedic roles are written specifically for Asian American females so it's a fight to convince a network/studio that they should not only see an Asian American female for a role but they should re-think it altogether!
Let me tell you what makes it all worthwhile! Growing up I did not see myself on TV or in movies. I didn't actually even see myself on Broadway. The only roles available were roles to play Asians and not fully realized, fully developed characters that just happened to be from Asia with incredible hair and smooth, poreless skin; no, it was more like Mickey Rooney in Breakfast at Tiffany's, which is the worst kind of Asian character.
So I set out to pave the way, make a path where one did not exist before and it has been fun and exciting and grueling but incredibly rewarding! Because I do so much comedy, I get to work with Heelarious people all the time! I spend a lot of my "working" hours laughing! And laughing! And crying! From Laughing! And I get emails and letters from Asian American girls that are playing Marcy Park from …Spelling Bee or want to play Marcy Park, and I'm so thrilled that they have a role to aspire to! I love following my passion and making the kinds of things that I think are funny and showing people that Asian American ladies can throw down with some funny! I will say the greatest reward is making my family laugh. We love to laugh together.
What's the funniest thing you've ever heard/seen?

There are soooo many funny things I've heard and seen, so I'm just going to list my standbys for when I need a really good laugh! Here are a few of my faves!
Zombie X Factor, The Navy Seal Who Killed Osama Bin Laden, Josh Gad's Miss Piggy impression, Bat Boy: The Musical off Broadway, @blackoutpete (His tweets send me into fits of laughter regularly), everything by Vickie Toro (I'm obsessed!!!!!), Aziz Ansari's Rannnnnndy character, Between Two Ferns, Arrested Development, Eastbound and Down, It's Always Sunny…, Portlandia,
Louis,

TASTiSKANK

,

Miranda Sings

.
Which comedienne, dead or alive, would you love to work with/meet?
Louis CK, Danny McBride, Dave Chappelle, Chris Rock, Whitney Cummings, John Candy. And, they're not necessarily comediennes, but Mitch Hurwitz and Judd Apatow I love and think they MAKE amazing comedy.
In what ways do you think you've improved or evolved since your first comedy venture?

I trust myself and my point of view so much more! I watch everything and I study it and why it makes me laugh or makes others laugh! I have worked with tons of amazing comedic actors and I've stolen (er, been inspired by) all of their best bits! I've also gotten to work with all of these incredible comedy directors and writers who've taught me a ton about the craft, not witchcraft, which would have also been super cool, but the craft of comedy.
What long-term/short-term goals do you have for your career?

I would love to be a series regular on a half-hour comedy! I am developing a half-hour with Wayne Brady that I'm really excited about and I'd love to return to Broadway in a comedic play or musical!
Do you have a specific audience to whom you play/would like to play? Describe that audience, and why/how you're playing to them.

Yes, I would like a paying audience that paid me lots of money to make them laugh, and then supplied me with an unlimited assortment of different cheeses from around the world. Also, I really love to make senior citizens laugh. They don't give you the easy laugh, they make you work for it, and then you feel like you've earned that laugh and that it's okay to binge on several kinds of pies.
When you're not writing/performing comedy, you're…

Watching comedy, practicing yoga, writing/recording songs, seeing theater. Looking at videos of pandas, corgis and wrinkly puppies, baking, roasting, basting, eating and laughing with my super funny friends! Oh, and talking to dogs on the street. Yes, I'm "that lady."
What's the difference between appealing to women and appealing to men?

Men are easier to make laugh! But women laugh harder!
What's your favorite comedy movie or T.V. show of all time?

Coming to America and The Chapelle Show.
The title of your autobiography?

Eat, Pray, Laugh

****
And an excerpt from that biography:

Deborah S. Craig, a Comediva channel partner, can currently be seen as Shelley Ng on the CW series Hart ofDixie. She is best known for originating the role of Marcy Park on Broadway in the Tony award-winning musical, The 25th Annual Putnam County Spelling Bee. Based on her own childhood, Marcy Park became the first Korean American character created on Broadway and earned her critical raves, as well as a Drama Desk Award. She was also featured in the MTV comedy pilot Dumb Girls, and was a recurring guest star on JJ Abrams/ABC's Six Degrees. As a writer/actor Miss Craig has been featured on Funnyordie.com twice and achieved immortal status (over 100k hits) for her cult web hit Yoga For Black People. She can also be seen in the feature films GhostTown with Ricky Gervais, Just Wright with Queen Latifah and the indie comedy Bad Actress. Comediva Forever!!!!!!!

AROUND THE INTERWEBS