Not only is she zombie-fighting Michonne on Comediva's new webseries, BAMF Girls Club, Aliza Pearl is also an actress and a singer-songwriter. In addition, she's one half of comedy duo Increase Our Bust! and can sometimes be found belting out catchy tunes as "Amber the Popera Diva"
Connect with Aliza on Facebook and twitter!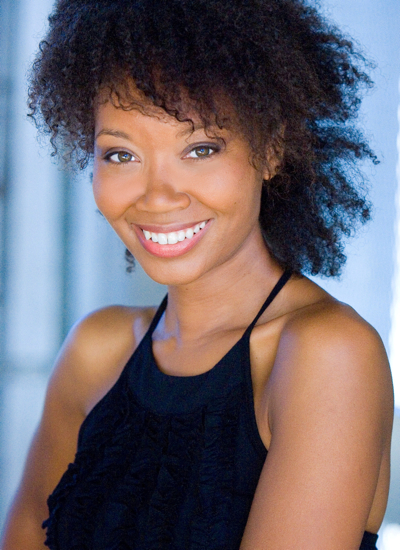 What's your favorite cupcake flavor?

 The Ba Ba Booey from Crumbs is fantastic!

What or whom inspired you to pursue a career in comedy?

Like every true 80s child, I was entranced by the strong characters on shows like Family Matters, In Living Color, and Saved By the Bell.  I also was a sci-fi geek as a kid, and The X-Files was my absolute favorite show.  So my inspiration was somewhere between Lisa Turtle and Fox Mulder.  That sounds about right.

If Chuck Norris were to corner you in an alley and challenge you to a duel, what would be your weapon of choice?

 I'd point and say "Hey look!" and then smother him with my afro.
What are some challenges you've faced since going down the comedy track and what, in your experience, has made those obstacles worth overcoming?

I think stand-up is one of the hardest entertainment careers to pursue…which is why I don't do stand-up.  Ha.  Honestly though, as an actress, writing and producing comedy has been a welcome and empowering break from waiting for auditions, seeing other girls in the commercial you weren't called back for, explaining to your grandmother why you're not famous yet… Thanks to Increase Our Bust, I can send my grandmother a link to my work and she's instantly proud, even though I'm not starring in a major film or TV show (ahem YET).  Oh, and hi Abuela. *waves*

What's the funniest thing you've ever heard/seen?

The political satires on SNL between 2000 and 2008.  Particularly Will Farrell as George Bush and Tina Fey As Sarah Palin.  They didn't just impersonate them brilliantly, they found even deeper levels of humor in those politicians that I personally found therapeutic to watch.

Which comedienne, dead or alive, would you love to work with/meet?

Kim Wayans and Melissa McCarthy.

In what ways do you think you've improved or evolved since your first comedy venture?

I'm new to sharing my comedic writing, so I've learned a lot with every script and video we've done so far.  When you go from acting in other people's projects to producing your own from start to finish, you learn to let go of a lot of excess and tell the story in the most honest way.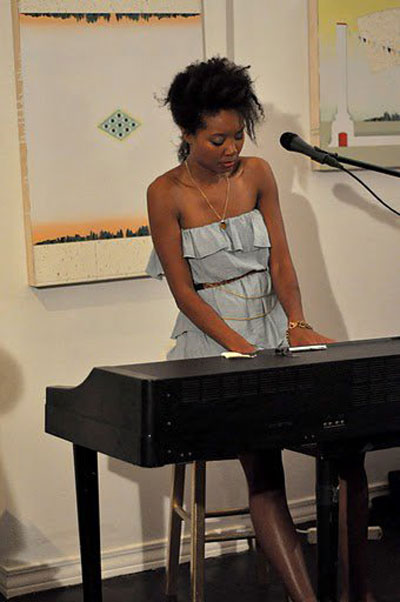 What long-term/short-term goals do you have for your career?

I've done a lot of indie projects (films and webseries), and in the short term I'd like to continue to do great indie projects while breaking into film and television.  I also want for Increase Our Bust to be a well-known YouTube channel, and for Dawn and I to be able to keep making videos!  Long term, I see myself acting and producing, and being instrumental in making stories that people will never forget.

Do you have a specific audience to whom you play/would like to play? Describe that audience, and why/how you're playing to them.

I'm playing to folks who don't need a black girl to be a stereotype.

When you're not writing/performing comedy, you're…

Singing, cooking, watching unnatural amounts of Hulu and Netflix videos, and denying that I've turned into a hipster.
What's the difference between appealing to women and appealing to men?

We women know that we're more than the two dimensional, sterotypical female characters that are written into so much of the film and TV we see.  Appealing to women means accepting the female viewpoint and not making it secondary, or cute, or angry, or naive, or purely sexual.  Women observe the world with our eyes just as wide.
What's your favorite comedy movie or T.V. show of all time?

30 Rock, with Community a very close second.  I get addicted to well-played, well-developed characters.
The title of your autobiography?

The Nebulus.
****


And now an excerpt from that biography:



Originally from Newark, New Jersey,
Aliza Pearl
studied dance from the ages of 3 to 18 before shifting her creative expression to acting, singing and writing. Growing up, musical training involved choral, classical, gospel, and musical theater, and musical exposure was vast, including jazz, soul, salsa, bolero, R&B, hip-hop and pop.  Since landing in LA, Aliza's songwriting has evolved from soul-and-blues-based melodies to more digitally inspired music.
Aliza is passionate about acting, and has starred in various independent films (
Something is Killing Tate
,
F U Y2K
) digital series (
Cupid and Eros
,
Sidekick Girls
), and stage plays at the Victory Theater, Berkeley Rep, McCarter Theater in Princeton, NJ and the New Jersey Performing Arts Center in Newark, NJ.  She recently launched Age 13 Productions with co-writer Dawn M. Green, to create comedy for online audiences.
In May 2011, Aliza Pearl released the EP "…and the Red Balloon" which is available on iTunes, Amazon, Rhapsody, and other online stores.  The acoustically-based EP delves into digital and industrial sounds.  She lists musical influences that include Nine Inch Nails, Bjork, Erykah Badu, and Feist.  Watch the music video for the single"Lights Out" directed by Oden Roberts.
AROUND THE INTERWEBS