You can imagine my excitement when I found out the biggest geek-fest of the year was putting on a panel called "The Most Dangerous Women at Comic-Con," which was to feature some of the most prominent lady-faces of geekdom. And you can imagine my confusion when the talk was mainly focused on how geeky each woman found herself and what made her so geeky.
Why are these women dubbed "dangerous"? I wondered.
Surely it isn't just because they happen to have vaginas and penchants for video games?
Each panelist (Leah Cevoli, Holly Conrad, Adrianne Curry, Abbie Heppe, Clare Kramer, Kristen Nedopak, Milynn Sarley, Stephanie Thorpe, and Patricia Tallman) is a tour de force in her own right, especially in the world of cosplay and extensive comic book and movie collections. So why was it so important for them all to validate their geekitudes?
Moreover, why is being a geek woman such a novelty?
Here are some theories:
The Sex Factor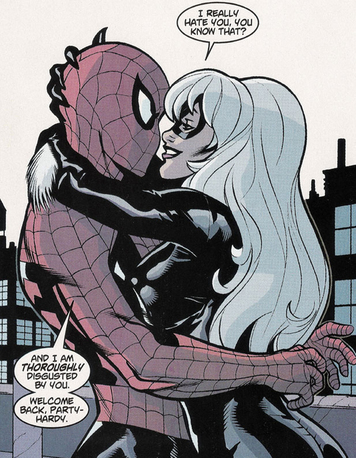 When you lay a comic book next to an issue of Playboy, they look eerily similar: the boobs; the suggestive glances; the cries of distress that actually sound/read more like sex grunts… I mean, how can you have a libido and not have to lock your door to guard yourself from untimely parental intrusions when reading either one? What I'm getting at here is that geeks and the bros who throw geeks into lockers have way more in common than they think. And by that I mean hormones, tissues, and lotion.
And, let's face it, every single woman on Comic-Con's "Dangerous Women" panel fit the mold for every geek's fantasy: beauty with at least some understanding of sci-fi references.
And a Raptor Jesus costume.
The Double Standard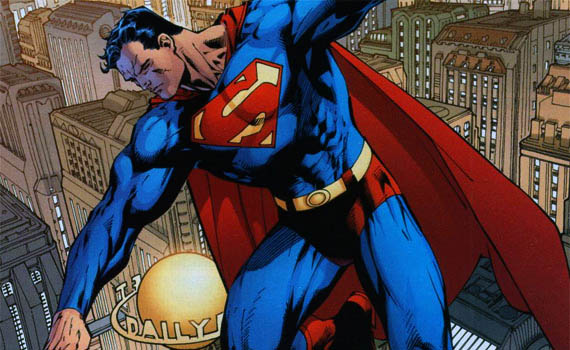 Which brings me to my next point: what's upsetting about The Sex Factor isn't that women should never be able to express their sexuality. It's that, given the very different way in which super-men are portrayed (with the impossibly massive muscles, the Protector Complex, and the permanent flex-pose), it's pretty clear the target audience comprises straight boys. In other words, straight boys aren't supposed to look at Superman's abs and think, "Ooooooo yeah, Superman, mmmmmmmm, oh baby!" but, "This is what manhood is. I want to be like Superman." Whereas they're supposed to look at the women and say, ";SDL AO;SID ALS;ALSJD OIL; K; *jizz*" And that's all. That's all.
Eliminating the Threat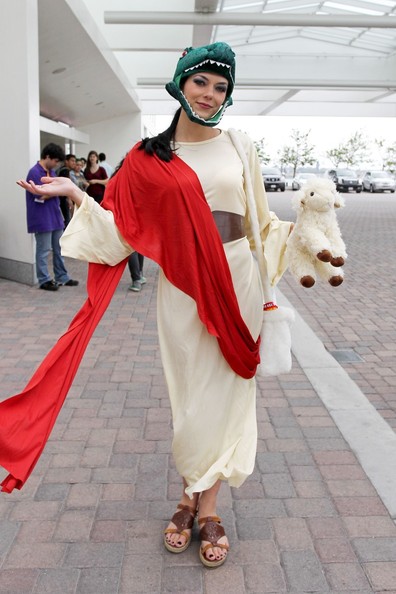 So, again, why are the aforementioned women "dangerous"? And, most importantly, accepted by this universe where women are as objectified as they are in just about every other medium?
I know so many of the people reading this might be shaking their fists at me, saying things like, "But these women are STRONG. And they have SUPERPOWERS. Why do you have to READ INTO EVERYTHING? Stop being an IRRATIONAL WOMAN, VICKIE."
But as a self-identified woman, I always have to wonder why "strong women" nearly always have to run around half-naked. And my theory is this: the idea of a woman as strong and valuable as a man is still so taboo that the only way to reach that delicate balance and not offend male readers is to constantly undermine a woman's strength with her sexiness.
"She's so strong," say teen boys, "but still so attainable. In fact, she wants to be objectified. Look at the way she's sticking her booty and boobs out. Look. Loooooooook."
So were the panelists all that dangerous? Or were they picked simply because they're so feminine they don't pose any threat to the expectations or masculinity of their fans?
Femmephobia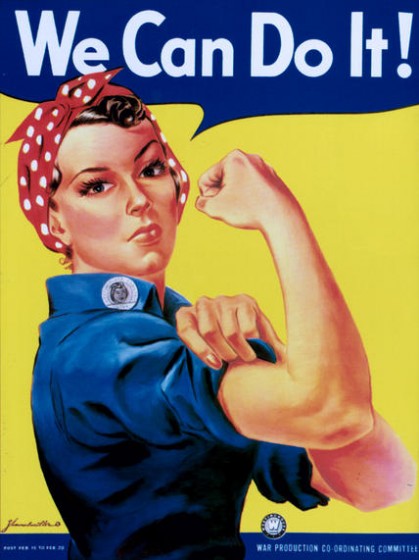 But I'm not gonna lie, the counterarguments to my theories might just hold some water.
After all, in my heart of hearts I know femininity should never, ever be equated with weakness: Isn't masculinizing women some form of sexism? Isn't suggesting that, to be a strong woman, you have to be just like a man sooooooooo First Wave?
And it is. So the last point I'll leave with you is this: There is absolutely nothing wrong with being feminine, no matter what gender you are. What's irksome about the predominantly straight male geek world and the panel in question are the expectations raised for women, and the impossible standards geeky women are made to compare themselves with. As well as the very narrow, very rigid boxes everyone — men, women, and the invisible non-binary — is thrown into.
To me, being "dangerous" means shaking up the status quo. To me, the ultimate solution would be to widen the possibilities by showing way more gender diversity.
But, again, these are just my theories. What say you, Come-peeps?
AROUND THE INTERWEBS