Thirteen years ago actress Jennifer Coolidge's character in Paul and Chris Weiz's outrageous, boundary and baked goods busting comedy American Pie introduced a new term into the cultural lexicon: MILF (I think we all know what that means by now).

As "Stifler's (very hot) mom," Coolidge enthusiastically and hilariously embraced and embodied the character of the sexy "experienced" woman; a woman willing to take on and delightfully ravage the young, enthusiastic and innocently sophisticated Paul Finch (or Finchy) artfully played by Eddie Kaye Thomas.
One of the most talented working comedic actresses today, Coolidge managed to make what could have been a toss away character in a film that centered on its teen stars, iconic. Stifler's mom is just as beloved as Jim "The Pie Defiler" Levenstein (Jason Biggs), Michelle "Band Camp" Flaherty (Alyson Hannigan) and Stifler "No Elaboration Needed" himself (Seann William Scott).

Coolidge was described by a sharp-eyed comedy writer (who shall remain nameless because I cannot remember his name — many things became hazy after the events following cougar cocktails) as a member of the future of comedy when he saw her perform at the Groundlings more than fifteen years ago. She is indeed as gifted and hilarious as she is luscious and capable of giving a whole new meaning to the phrase, "Mother, may I?"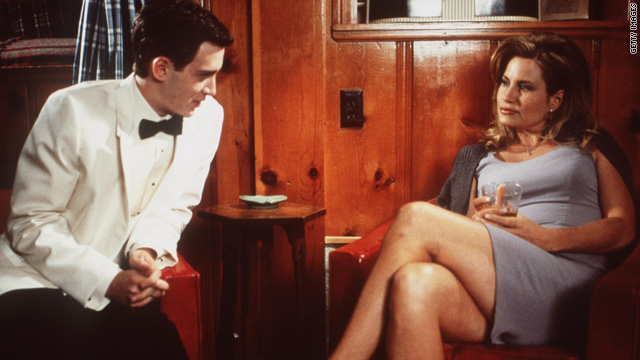 It was our good fortune to sit down with the actress for cocktails, where she dropped some serious knowledge about the rules of MILFdom and the benefits of dating a younger man.

In addition to embarking on a new business venture we learned four very crucial facts:

1. Ladies, if you want a strapping young lad, move yourself to Ireland or Scotland. It's almost too obvious, I know. It's the Occam's Razor of dating.

2. Always embrace opportunity. Follow up: Improvise, the rules of the MILF are meant to be broken.

3. DILFs (Dads I'd Like to Fuck) are people too. But they're not called DILFs. Also, they're not people.

4. If you drink the "prop" cocktails during an interview you will have little to no chance of making it to your friend's bachelorette party and 100 percent chance of experimenting with your newly acquired "cougar" skills. Suffice it to say I woke up in a Dublin motel embraced by (a mysteriously sopping wet) Michael Gambon.

In all honesty, Jennifer Coolidge was an absolute delight and remains a stand-out as a defining force for all us lovers of comedy's delicious divas.

You can see what Stifler's Mom and the gang of randy misfits has been up for the past ten years when American Reunion opens in theatres on Friday, April 6.
AROUND THE INTERWEBS