Stanford scientist Dr. Jessica Spano applauded the effort, citing an old adage that we've heard before but never knew to take so seriously.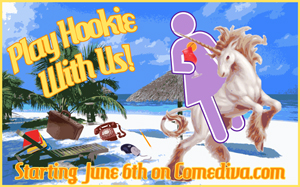 "It's becoming increasingly apparent that laughter truly is the best medicine," Dr. Spano said. "In fact, based on this study, we're recommending 15 minutes of laughter per person per day."
Comediva.com will feature nostaglic content from the 80s and 90s designed to help users recapture their youth and simulate the experience of being on summer vacation. With articles ranging from an expose on missing Disney mothers to a list of the top 10 cartoon theme songs, Comediva.com is committed to the "15 minutes a day" cause.
"We're taking these findings very seriously," commented President/Founder Erika Cervantes. "'15 minutes a day' has become the rallying cry at our office. And keep in mind that's a minimum. Our goal is to make up to an hour of laughter available, should users decide to take it."

****
AROUND THE INTERWEBS