Lily Tomlin, like so many other American classics, was made in Detroit, Michigan. The daughter of a nurse's aide and a factory worker, Lily discovered her love for performance in college at Wayne State University. She made her first appearance on television on the Merv Griffin Show in 1965.

She proceeded to make herself comfortable as the iconic heart of American film and television for the next four decades and counting. From Laugh In to Nashville to 9-5 to The West Wing to Will and Grace to The Magic School Bus, Lily's the little engine that could, and who never seems to notice what she's doing is so freaking hard. Lily makes what she does look easy, and that, my lovely comedivas and comedudes, is what we can all learn from her. Never let 'em see you sweat, and they probably won't even notice that you're doing something hard; they'll just notice that you're freaking amazing.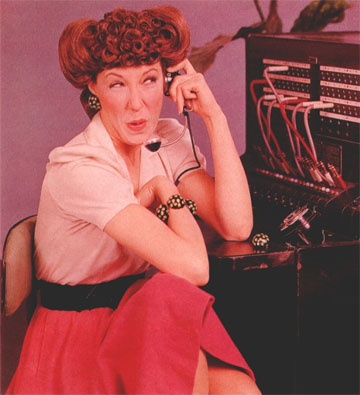 Lily is a character actor in more ways than one. She built her standup comedy career around a series of different characters, like Edith Anne. Tomlin was one of the first female comedians to perform in drag, and one of the few white performers to successfully play across racial boundaries as well. In 1982, she introduced the world to Pervis Hawkins, a black rhythm-and-blues soul singer (patterned after Luther Vandross). Lily builds her characters from the inside out. She can convince you that she's anything and anyone, from a little girl to a black man, without missing a beat.

Lily's roles in film and television have been as mind-bendingly diverse as her stand up characters. What other actress could lay claim to being both one of indie-filmmaking icon Robert Altman's muses and also to having a reoccurring role on Desperate Housewives in 2008?

You'd think that a career like that would belong to an actress best described as a chameleon, but of the many things that Lily Tomlin is, chameleon isn't one of them. She may be able to convincingly play just about anyone, but her inherent Lily-Tomlin-ness never goes away.

Lily has treated her sexual orientation (she's a lesbian, and has been with her partner Jane Wagner for nearly 40 years) with the same casual determination that she attacks everything else. She officially came out to the press in 2001, but as she pointed out, she's never actually hidden her sexuality, or her lover, from the world.

Tomlin said it best in an interview for Just Out magazine in 2008: "Everybody in the industry was certainly aware of my sexuality and of Jane… In interviews, I always reference Jane and talk about Jane, but they don't always write about it."

By facing her own struggles toward acceptance and living her life with the same grace, dignity and nerve with which she approaches her art, Lily makes herself one of the top 10 ladies this comediva wants to be like when she grows up.
****
AROUND THE INTERWEBS