Welcome to our weekly Giggle Goddess question and answer session with a comediva out in the world spreading giggles like wildfire. This week, contributing editor to comedy 'zine The Devastator Quarterly, as well as a stand-up comedienne who's making waves on Comedy Central, Funny or Die, and Jeopardy, Lesley Tsina's no stranger to standing up and taking charge.
Connect with Lesley on Tumblr, YouTube, her official site, and The Devastator's official site!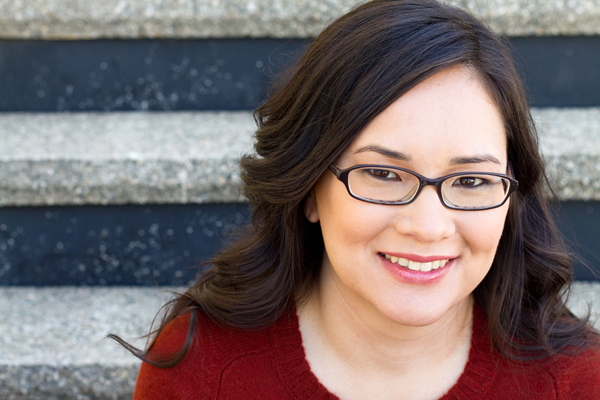 1. What's your favorite cupcake flavor?
I'm not a cupcake fan. In general, I am against the increasing miniaturization of cake. But if we're talking regular-sized cake: my favorite bakery makes a chocolate cake with mocha-cream-cheese frosting. Spectacular. 

2. What or whom inspired you to pursue a career in comedy?

Growing up, I watched a lot of standup on TV. Later I watched a lot of British comedy: Blackadder, A Bit of Fry and Laurie, AbFab, things like that. In high school, I did Humorous Interpretation, a Forensics event where you basically did a 10-minute excerpt from a funny play where you did all the parts. That's the first place where people who wanted to be comedians. In college I wrote a newsletter for the science fiction club that became increasingly long and silly and off-topic. Our fifty readers were big fans. That experience stayed with me, when I thought about things I really enjoyed doing. After college, I tried really hard at a couple of careers that didn't work out, so I was looking for something else that would suit me. I think around then, I read a book interviewing 80s standup comics about how they started, I think it was called "Comic Lives." That sounded pretty great. Also, I knew Margaret Cho was a comedian and that helped me think that it wasn't ridiculous to be Asian and want to be a professional comic. This was more important than you might think. Plus Janeane Garofolo and Alison Bechtdel were doing cool things. I was moving to Los Angeles to work in film production anyway, so when I got there, I started doing open mikes, and then improv and then writing sketches.

3. If Chuck Norris were to corner you in an alley and challenge you to a duel, what would be your weapon of choice?
Could I get Christopher Walken to do a dance-off with him to Weapon of Choice?


4. What are some challenges you've faced since going down the comedy track and what, in your experience, has made those obstacles worth overcoming?

I get irritated at having to expend the energy to ignore to whatever bullshit article about women not being funny has come out in the last 6 months. There is also the persistent idea that being cute or childlike is an extra-valuable quality in female comics. If that isn't what you do, that's a pretty big bummer. In fact, it's weird people think that, since the history of outstanding female comics contains some pretty butch women and women who are grown-up, in their appearance and sense of humor. And sometimes I get discouraged that the people who get paid to do comedy are so overwhelmingly white and male. Women in comedy notice where people like them are getting hired. It'd be nice to hear about more places hiring more than one woman, or hiring women over 25. Or hiring like, any ethnically diverse women. Sometimes the degree of stubbornness required to keep going despite all this is pretty daunting.
What makes this worth overcoming? Well, If you keep going, you still get to have fun writing and doing comedy and working with funny people. You get to do that whether or not you get paid. And the better you get, the closer you are to producing work that's on the same level with the stuff you admired coming up. I'd be so happy if I could produce something as minute-to-minute funny as Blackadder IV. Seriously. That's pretty motivating.

5. What's the funniest thing you've ever heard/seen?
Can I just give you something recent? I was in Taipei last week and I had a pineapple bun for breakfast and I was confused because there was no pineapple in it (I am not that great at being Chinese). Turns out, it's called a pineapple bun because the pattern on the top looks like pineapple skin. Because I have too much time on my hands, I looked up "pineapple bun" on Wikipedia found this:
"In 2005, 'Pineapple Bun' was nominated as a potential Pacific typhoon name but was rejected. Former director of the Hong Kong Observatory, Lam Chiu Ying, as one of the judges for the naming process, commented: 'If we say XX country is being ravaged by Pineapple Bun, that would be too hilarious.'"
The fact that that required a public statement is still making me laugh.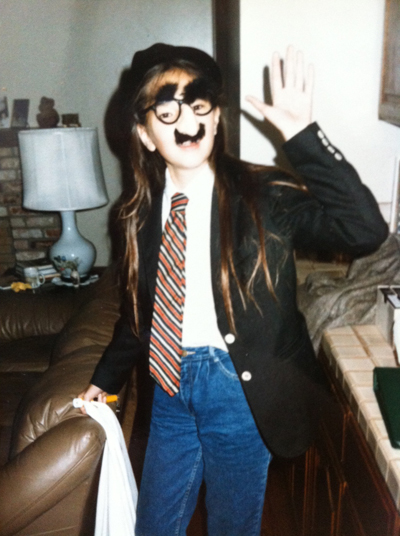 6. What do you look for in potential writers for The Devastator?
Someone who's funny and would be funny about that particular topic. 


7. What's the difference between appealing to women and appealing to men?
I think a lot of appealing to women is not caring whether or not you're appealing to men, straight men in particular. If that's the case, it's easier to do things like have an all-female cast, not worry about making the female protagonist be likeable or interesting to dudes, or have a love interest or whatever. And you can do things that don't happen enough, like give a variety of funny women a variety of funny things to do. If you're doing any of those things, women are going to notice. I don't know if you're going to make a ton of money, but women will watch it and men who do not have their heads entirely up their asses may as well. Or in general, it's just giving yourself freedom to follow whatever weird thing you think is funny and not worry if it has a broad appeal.
If you only care about appealing to men, don't try any of those things. In fact, forget that funny women, of a variety of ages and types, exist. Women will probably still watch whatever it is, if it's funny, but will be irritated at being left out.
8. What's your favorite comedy movie or T.V. show of all time?
For TV it's a tie between Blackadder IV and A Bit of Fry and Laurie and AbFab. For movies, Young Frankenstein or maybe Radio Days.

9. When you're not immersed in the world of comedy, you're…

Reading. Auditioning for cell phone commercials. Baking bread and various tasty desserts. Looking up "pineapple bun" on Wikipedia.

10. What would the title of your autobiography be?
This Book Belongs To…
****
And an excerpt from that bio…
Lesley Tsina is a writer and comedian, originally from Palo Alto, CA. She's appeared on NPR's Marketplace, HBO's Funny or Die Presents, and in several national commercials. Her videos have been featured on Funny or Die and UCBComedy.com. She is a Contributing Editor for the comics and satire quarterly The Devastator, where she writes about things like college radio and hobbits. Lesley has done standup at Comedy Death-Ray, The Tomorrow Show, and many others. She's been a member of several improv and sketch teams at the Upright Citizen's Brigade Theater in Los Angeles and has traveled to SF Sketchfest, The San Francisco Improv Festival and the Del Close Marathon in NYC. Lesley performed her solo show, Lord of the Files, at the Comedy Central Stage, and was then selected to perform in the 2012 CBS Diversity Showcase. Her comedy has been described as "smart, bordering on weird." Also, she was on Jeopardy once, but she lost. Booooo.
AROUND THE INTERWEBS