This week, join us as we celebrate Leena Pendharkar: a filmaker and the writer and director behind the hit sketch series So Natural.

For more Leena, you can find her on the interwebs at: Twitter, Facebook, and Leenap.com!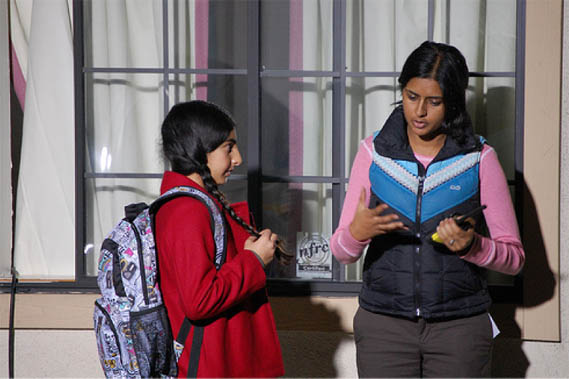 Leena directing her star in her film 'Raspberry Magic.'

When did you know you wanted to be a director?
I've always liked telling people what to do! No really, directing combines all the things I love, storytelling, performance, visual media, and more. I was always writing, and in high school and college, I started freelancing as a journalist. That lead to learning web design and becoming more adept with visual media, and I found that I loved it. After my undergrad I worked for a US Congressman as a web designer and legislative aide, while continuing to do a lot of freelance writing. I started thinking more about what I wanted to do long term, and filmmaking seemed to combine everything I love. So I got my Masters degree in Journalism with a concentration in Documentary Film from UC Berkeley. I started making all kinds of shorts and crewing on sets, and found that I loved it. I ended up working more in narrative film more than docs, but found that docs were a great place to start.
When did you know you were in love with cupcakes?

Right out of the birth canal… My mom was prepared… Red velvet.
Why direct comedy? How is it different from directing other genres of film?

Laughter is powerful, plus I love collaborating with actors in comedy. There is room for improv and spontaneous ideas which isn't always possible in drama! I love the general craziness!
If Chuck Norris were to corner you in an alley and challenge you to a duel, what would be your weapon of choice?

I'm not much for battle, I'd prob hide!!!
Do you have a comedy director you look up to? Why?

I love Alexander Payne, Election is one of my fav movies of all time. His movies have powerful social commentary with complex and hilarious characters.

What's the no. 1 lesson you've learned so far about directing?

Humans are complex. Directing is about finessing those complexities.
As a woman, do you note any differences in how you work with your cast and crew versus how a male director?

Working with an all female cast on So Natural has been such a blast. We talk about our periods a lot, which is something guys can't do! I'm kidding, but seriously, I love how raw and crazy working with female comics gets!
In a dream gig, which comedy actress/comedienne would you love to direct?

So many, but Mindy Kaling, Leslie Mann, Amy Poehler Maya Rudolph, Aubrey Plaza, and Rashida Jones. I'd love to work with Alison Brie again too!


When you're not directing comedy, you're…

Trying to boss my 2 year old around!
What's your favorite comedy movie or T.V. show of all time?

Its always changing, but recently, Bored to Death, Enlightened, Parks and Rec. Of all time, the movie Network. Dark and funny, def brilliant.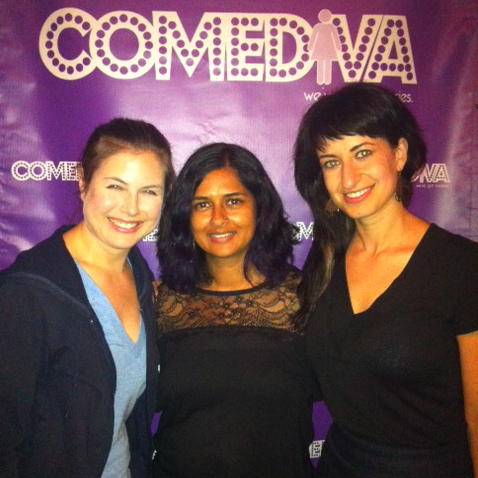 Leena (center), with So Natural actresses
Sofiya Alexandra (right) and Heather Horton (left)


What's on the horizon for you? Any upcoming projects you'd like to share with us?

My new feature, A Day with RK is in the works, a couple of other YouTube shows, and of course, more episodes of So Natural!
Title of your autobiography?

Pimpin Ain't Easy.
****
And an excerpt from that biography:

Leena Pendharkar is a writer and director of the sketch comedy series So Natural. Her feature, Raspberry Magic, won an audience award Philly and will be out on DVD later this summer. She blogs at leenap.com.

AROUND THE INTERWEBS