By Rebekah Allen
Even if you've never heard of Chelsea Peretti, there's a good chance you've already seen her work. She's made appearances on shows like Louie, Last Call with Carson Daly, Lopez Tonight, The Smoking Gun Presents: World's Dumbest, and The Sarah Silverman Program (which she also wrote for). Now, in addition to being an acclaimed stand-up comedian, she is also a writer on NBC's hit sitcom Parks and Recreation. And as if that wasn't enough to keep anyone busy, she's also created several web series and sites that are as hilarious as they are unique in subject matter. After talking to Chelsea about stand-up, Parks and Rec, and, er, prostitution, it's safe to say that both the comedy scene and one of television's best sitcoms are in good hands.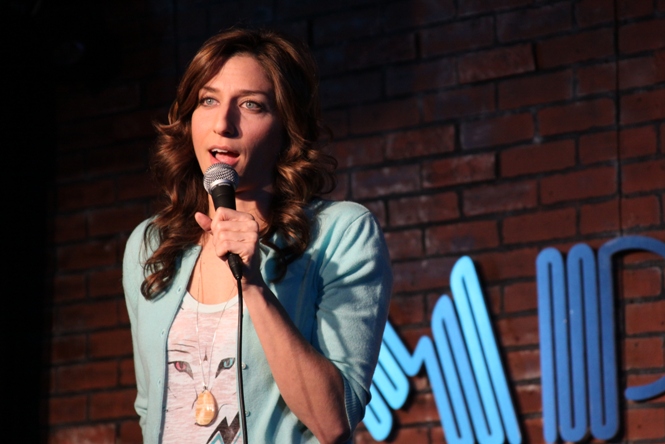 Chelsea Peretti, you are a comedian, a writer, an actress, and you've created several of your own online projects. Is there anything I'm forgetting?
No, I don't think so.
Can you give us a quick mini-biography of your life up 'til now?
I grew up in the Bay Area in Oakland, California, and then moved to New York for college. I always did theatre as a young person, started doing improv in college, and as soon as I graduated, I started doing stand-up. Then I moved out here to Los Angeles two or three years ago to write for Sarah Silverman. That was kind of my big break, and I've been in L.A. ever since.
You've performed in several comedy festivals, and Variety declared you one of the Top 10 Comics to Watch for 2010. What's it like now performing with such recognized positivity?
In the last few years I've felt like people like me, which I don't think I've felt in eight years or something doing stand-up. I always had my supporters and people who encouraged me, but I think it's only been recently that I felt, in terms of a "people who can hire me" level, that people supported me. It's a change in life where some of that hard work has paid off.
I'm so curious because I spent a lot of time recently on your site blackpeopleloveus.com; how do you get the ideas for these projects and websites?
I don't know how we thought of it. There's certain people that you talk to, and you just wind up always having funny ideas and feeling inspired. My brother is one of those people. When he and I were hanging out in New York, we just would talk and be like, "What if we did this?" And the thing about the internet that's so cool is that it's so easy to say "what if" and build something, especially in that time a few years ago when the internet was so much less saturated and people were much more likely to be taken in by something.
AROUND THE INTERWEBS