When did you know you wanted to be a director?
When I turned 30 and realized "starlet" was no longer a realistic career goal.

When did you know you were in love with cupcakes?
Cupcakes and I aren't in love. We're just fuck buddies.

Why direct comedy? How is it different from directing other genres of film?
Comedy has always come naturally to me, and I am a big believer in shaking what your momma gave you. Also, I don't think it's that different than directing drama or action. You still have to tell a story, find the truth in every character, and know how to time a fart joke. Just like in Platoon. Platoon is another word for fart, right?

If Chuck Norris were to corner you in an alley and challenge you to a duel, what would be your weapon of choice?
Christmas Spirit? No, never mind. A gun.

Do you have a comedy director you look up to? Why?
I grew up loving all things John Hughes. His female characters are so wonderful. And everyone in his movies suffers so much, which is funny. (See: Platoon.)

What's the no. 1 lesson you've learned so far about directing?
Listen. Listen to your actors, your crew, and in the end, your own gut. That's the hardest for me, because my gut tends to get really bad cell reception. She's, like, always driving over Laurel Canyon, and I can only hear half of what she's saying. But I just keep calling back until I reach her. Damn AT&T.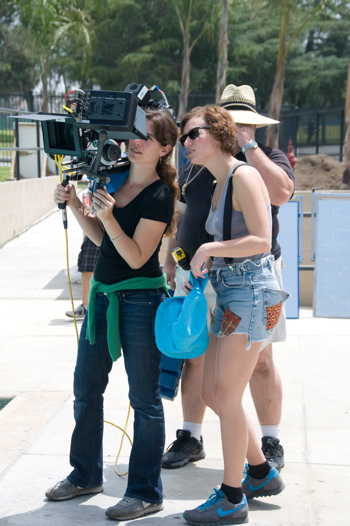 Amy, w. Stephanie Martin, DP on El Súperstar and Hold for Laughs.A
s a woman, do you note any differences in how you work with your cast and crew versus how a male director does?


I like to think of myself as a bra, and the cast and crew as boobs. I'm there to lift, shape, and present the collective talents of the people around me. I doubt any male directors are going to cop to being the bra.

In a dream gig, which comedy actress/comedienne would you love to direct?
I like a challenge, so … Tilda Swinton. By the time we're through, she'll be Jane Lynch.

Which character do you most resemble from The Divas?
The black one. Oh, there isn't a…? Sorry. Then, the Latina.

When you're not directing comedy, you're…
Writing comedy to direct, going on commercial auditions, falling asleep in front of the television, avoiding doing laundry, roasting a chicken, staring blankly ahead, sweating.

What's your favorite comedy movie or T.V. show of all time?
I have commitment issues, and this question makes me want to break up with you. Movie: Ferris Bueller's Day Off. TV Show: 30 Rock. Now, I'm going out for drinks with Kerry, and no, I don't know when I'll be back, so just give me some space, okay?!?!

Title of your autobiography?
It will be a cookbook with amusing anecdotes to accompany the recipes, and it will be called Specialty Cheese. Available in paperback in 2052.

—

Amy French is an actress, writer, and director, of average height, from Los Angeles, California. Her first feature length movie, El Súperstar: The Unlikely Rise of Juan Francés, was a bi-lingual musical comedy which Amy wrote, directed, and produced, along with executive producers Norman Lear and George Lopez. El Súperstar enjoyed a successful limited theatrical release and can now be seen on cable, DVD, and streaming. Amy was one of just eight participants in the 2010 Directing Workshop for Women, an annual fellowship from the American Film Institute given to emerging female directors. Her AFI short, Hold for Laughs, won the DWW Jean Picker Firstenberg Award for Excellence. You can almost always find Amy on television, encouraging Americans and Canadians to buy computers and yogurt and dryer sheets, thanks to her 10 plus years acting in commercials. These days, Amy spends much of her time trying to figure out what the hell "branded content" is, so she can make some.

Watch the trailer for Amy's feature film,

El Súperstar

!
AROUND THE INTERWEBS