Welcome to our question and answer session with a Boss Lady bringing giggles to your screen.

This week, we bring you the creator and director of

Groupidity

, star of Geek Therapy, who also playss Katniss in our new series, BAMF Girls Club, Boss Lady

America Young

.

Follow America on

Twitter

!



When did you know you wanted to be a director?
My first directing job was when my good friend Fay forced me to direct her music video. I was terrified and thrilled and inspired all at once. That's when I knew I had found something that I had to do.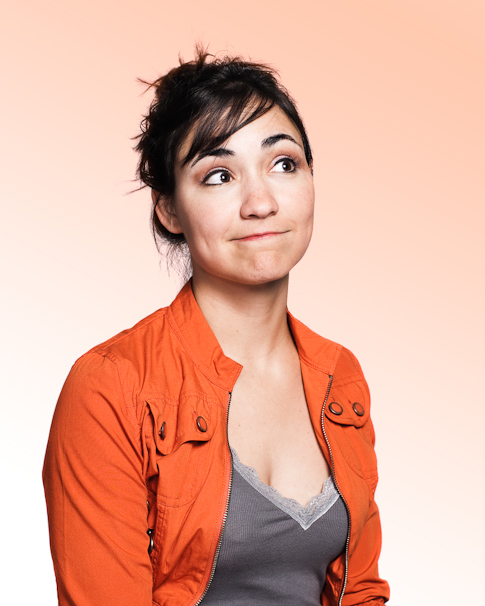 When did you know you were in love with cupcakes?
When I noticed the mere mention of the word "cupcake" made me smile. Cupcake (Grin). Cupcake (Grin).
Why direct comedy? How is it different from directing other genres of film?
One of my favorite movies is Sullivan's Travels by Preston Sturges (Thank you, Russell, for the introduction). In it, you see a director who wants to change the world by making a dramatic film and then discovers the power comedy has to make the world a better place. We all live drama. No matter who we are and what our problems are, we all live drama (some more dramatic than others). Why not give people a reason to laugh? A reason to not take ourselves so seriously. 'Cause let's face it, we all take ourselves waaay too seriously.
If Chuck Norris were to corner you in an alley and challenge you to a duel, what would be your weapon of choice?
Weapon? Against Chuck Norris? I don't understand, is this a trick question? There is no weapon to use against CHUCK NORRIS. He's FREAKING CHUCK NORRIS. (And he should always be referred to with bolded cap letters; that is, if you want to continue to live.)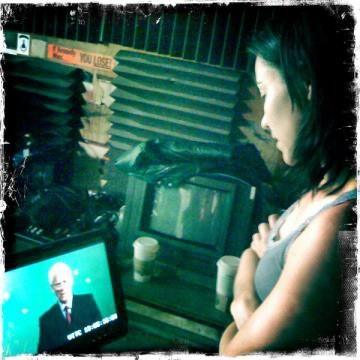 Do you have a comedy director you look up to? Why?
Jerry Zucker. Because he's awesome.
What's the no. 1 lesson you've learned so far about directing?
Listen to those around you that are experts at their jobs, but be able to filter what serves the project best. And always have fun and be grateful for being able to do what you love to do. OK, that's more than one. Can we call it a tie?
As a woman, do you note any differences in how you work with your cast and crew versus how a male director does?
Um. Yes. I do find that speaking with a lower pitch helps. I wish I were kidding. I have been lucky that all the crews and casts I've worked with have been talented and respectful and there have been no "my dick is bigger" contests. Which is good, because I would have clearly won and that would have been embarrassing for them. I have found that women filmmakers seem to be more collaborative than "my vision only." This can make for an amazing storytelling experience, or it can make for a mess if they can't reign it into what serves the story best.
In a dream gig, which comedy actress/comedienne would you love to direct?
Madeline Kahn (Sign). Stephanie Bentley (Oh, wait — I have!). Honestly, anyone who is excited to play.
Which character do you most resemble from "The Divas"?
Tough, I'm a little bit of each of them.
What's your favorite comedy movie or T.V. show of all time?
Airplane, When Harry Met Sally, Drop Dead Gorgeous, "How I Met Your Mother," Bringing Up Baby, Court Jester, anything on Comediva. How can you ask for favorites? What is this, Sophie's Choice?
Title of your autobiography?
"Bite Off More Than You Can Chew, and Then Chew It"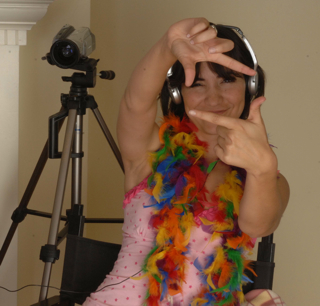 America Young is happiest when doing twelve things at once. Content Producer extraordinaire at Comediva, she's also the creator and director of Groupidity, a wonderful web series featured on Comediva.com. America's also proud to be a director on "Locked In" (a short that is part of "Girls!") and even prouder to be an executive producer on the whole "Girls!Girls!Girls!" project (www.girlsthefilm.com). She was also Executive Director and co-founder of The Feel Good Film Festival (2008-2011), Panel Producer for the AFI Festival 2009 and Director of Operations of The Santa Catalina Film Festival (2011). America's slated to direct a comedy feature and a web series about professional wrestlers this year.
AROUND THE INTERWEBS