Fans of comedy and print media, rejoice! This week's Boss Lady is none other than The Devastator Quarterly's managing editor, Amanda Meadows! Together with co-founder Geoffrey Golden, Amanda launched The Devastator in December of 2009. Ever since, it's been kicking ass and inspiring laughs as an unflappably engaging and freshly hysterical indie publication.
To find out more about The Devastator and to connect with Amanda, check 'em out on the interwebs on Twitter, Facebook, and tumblr.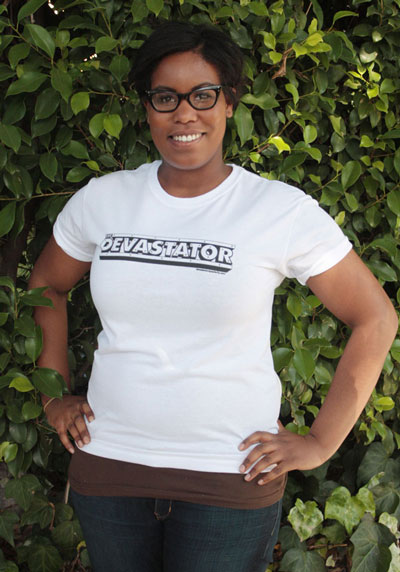 What's your favorite cupcake flavor?
The kind that's so good, I forget about genocide for at least 20 minutes. So… coconut.
What or whom inspired you to pursue a career in comedy?
I grew up on a steady diet of cartoons, comics, and comedy. My childhood sucked, and growing up in Orange County, CA, I was the only black kid in school. When you already stick out and feel out of place, it's license to be as weird as you really are. I read a lot of X-Men and Batman comics, and I stayed up super late to watch Beavis and Butthead, Conan, SCTV, Kids in the Hall, Monty Python's Flying Circus on tape. 90s cartoons like Tiny Toons and Animaniacs were huge influences on me, too. References! References!
At first, I really looked up to white guys from Harvard and legacy comedians like Conan O'Brien, Al Jean and Mike Reiss of classic The Simpsons, and Chris Elliott. By middle school and high school, amazing women like Amy Sedaris, Tina Fey, and Carol Kolb of The Onion showed me that writing comedy was not only possible, but a gal could eventually run a room.
Also, now that I'm older I realize my sense of satire was very much informed by Mike Judge's work, as well as Daria by way of Glenn Eichler.
If Chuck Norris were to corner you in an alley and challenge you to a duel, what would be your weapon of choice?
A boombox playing ska music. Confuse with the ska, bludgeon with the boombox.
What are some challenges you've faced since going down the comedy track and what, in your experience, has made those obstacles worth overcoming?
Like a lot of people, I had trouble summoning the confidence to put myself out there. I told myself I was best working for other people because I was afraid to do anything on my own, which was probably a natural way of admitting that I wasn't ready. The Devastator was a welcome challenge for me in that respect, because I had to force myself to take personal stake in a project.
The obstacles to getting to where we are now with The Devastator are the same ones anyone who works in a creative field must face: working for other people. The good, the meh, and the shitty experiences working for other brands, publishers, studios, helped us mature enough as professionals. Had we started The Devastator 8 years ago, it would have been one of many failed experiments. It's all the failed experiments and dutiful work-for-hire that cut our teeth for this. It has all been worth it, and we're still learning how to improve every day.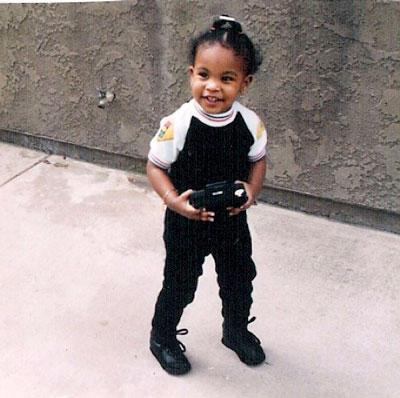 What's the funniest thing you've ever heard/seen?
I once saw a fat man in a bikini on a unicycle, riding past a Taco Bell. It was glorious.
What long-term/short-term goals do you have for The Devastator?
My partner, Geoffrey Golden, and I share a lot of goals for the magazine, some of which have already come true, such as becoming profitable by our 2nd year (it usually takes the average mainstream magazine 5 or more years to turn a profit), and having a hilarious staff.
1. DESTROY ALL OTHER MAGAZINES
2. Reclaim the Rhineland
3. Earn a full salary and quit our other jobs
Where did the inspiration for The Devastator come from? Can you talk a little bit about its beginnings?
Back in December of 2009, Geoffrey and I were having dinner, talking about how we missed humor in print. We grew up reading old MAD Magazine, classic 70s National Lampoon, and the slow death of that medium left a void. Geoffrey, on a lark, started to work on a one-man zine in the style of Army Man (George Meyer's infamous self-published rag from the 80s), and I was editing. That's when I discovered Kickstarter, which was very new at the time. I showed it to Geoffrey, and that's when we resolved to make a completely new thing that is all the things we would want from a comedy magazine, collaborate with our friends, and use Kickstarter to pay for printing and contributors. Literally that night, we were working on it, and six months later we had The Devastator #1: Cartoons!
What made you go with a print form over just a website?
Haha, the answer is sort-of implied in the phrasing of "just a website." The format and tone of The Devastator were crafted as a direct response to the topical, disposable cycle of online content. At the time, both Geoffrey and I had written humor for the Internet and were a bit fatigued by the forgettable quality of it. We needed an outlet in which we could write meatier (mmm… meaty) pop-culture satire.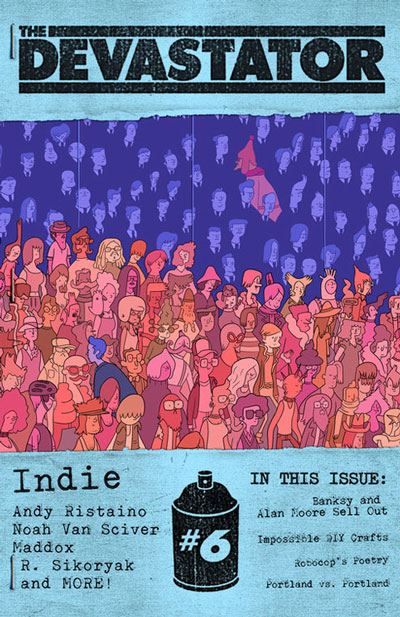 What do you look for in potential writers for The Devastator?
We like sharp, funny people who have something to say about the theme we're working on. We first looked to our most talented friends, and have since branched outward. If we think a Mike Sacks or a Tony Millionaire would be great in an issue, we ask Mike Sacks or a Tony Millionaire to contribute. We're now in a favorable yet awkward position where we have way more people interested in contributing than pages to accommodate them all.
Do you have a specific audience to whom The Devastator plays/would like to play? Describe that audience, and why/how you're playing to them.
We definitely have an audience, and it's 25-35 year-old nerdy males and females. So we're basically making The Devastator for ourselves! (Though not literally, as that would be a terrible business model.) We travel to pop-culture and comic conventions across the country year-round, so we get a hands-on understanding of how our audience responds to The Devastator, which really helps.
Why the name "The Devastator?"
We decided it should have a name that could easily be a pro wrestler or a cousin of Galactus.
What's the difference between appealing to women and appealing to men?
We never really thought about it that way. Our staff organically became half men and women, and we have as many female subscribers as male subscribers, probably as a result of our not thinking about gender. Being overly conscious of what is perceived to be inherently female or male causes one to work backwards from market to idea, which rarely ends in an inspired product (see: Bic Pens for Her). I think the less you think about it, the more honest the comedy will be.
We just made an exclusive subscribers-only zine called "Boobz," and who pitched the concept? The lady editors!
What's your favorite comedy movie or T.V. show of all time?
It's impossible to choose just one! TV: Black Adder, M*A*S*H, Daria, The Simpsons seasons 3-8. Movies: The Apartment and Pootie Tang.
When you're not immersed in the world of comedy, you're…
Cooking or asleep. Preferably both at once to save time!
What would the title of your autobiography be?
First Female Astronaut: The Story of Amanda Meadows, Who Was Not The First Female Astronaut
***
And now an excerpt from that biography:
Amanda Meadows is a member of Generation Y living in Los Angeles, CA today. When she was 3 years old, she accidentally trapped herself inside of a refrigerator box and has since vowed to never live inside cardboard again. Paradoxically, she also dreamed of becoming a comedy writer. She's worked in publishing, both online and offline, for places such as Phoenix Books, Inc., College Humor, McSweeney's, and Comedy.com. Amanda is Co-Founder and Managing Editor of quarterly comedy magazine The Devastator with her loving partner, Geoffrey Golden. The newest issue, The Devastator #6: Indie, hits stores October 16th. She is currently wondering whether to adopt another cat.
More about The Devastator Quarterly:
The Devastator is a print comedy magazine founded in December 2009 by Geoffrey Golden and Amanda Meadows, two comedy writer-editors from Los Angeles. Every issue is a geeky, full color mix of comics and written satire based on a theme. We're distributed around the world and sold in over 35 stores across the United States, UK and Canada. We publish quarterly, which really means, "whenever we can afford to."
Read the rest of The Devastator's story here.
AROUND THE INTERWEBS