Kay Cannon and Elizabeth Banks make a formidable comedy team. The pair had been friends for years when Banks was cast as ultra-conservative, tough-as-nails, wife, mother and North Korean kidnapee Avery Jessup on 30 Rock.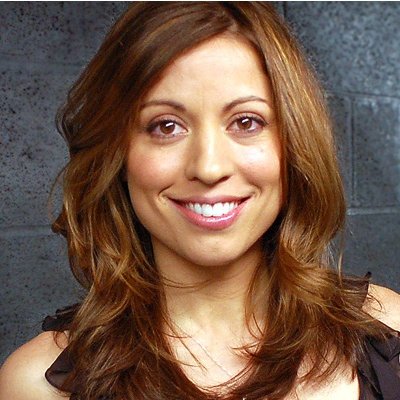 Cannon is currently a writer and co-executive producer for the Zooey Deschanel FOX comedy New Girl, having completed six seasons as a writer and producer on the aforementioned 30 Rock. In addition to the three Writers Guild Awards for Television Comedy Series and Peabody Award she won, Cannon was nominated for an Emmy twice for her work as a producer on the series and individually for Outstanding Writing for a Comedy Series.
In fact, Tina Fey, Elizabeth Banks and Cannon were all nominated for the same episode: "Lee Marvin vs. Derek Jeter".
In her first year on the show, Cannon became enamored with the idea of a film centered on the strange world of a cappella when a joke about the character Toofer being in a collegiate a cappella group struck her as particularly bizarre, hilarious, and rife with joke and character possibilities.
Years later, she and Banks were having dinner when the actress told Cannon about a book she and her husband had optioned: Pitch Perfect: The Quest for Collegiate A Cappella Glory. The book essentially served as the research Cannon needed in order to flesh out a script for an irreverent, smart, balls-out (because there are a lot of girls…and the boys are kind of pussies), aca-larious comedy.
"I'm an improviser so I suspected it was a lot like the improv world," Cannon told Comediva in our interview with the actress, scribe, and all around powerhouse comedy creator. We're in groups and it's all very serious and some people become famous. And people give one another notes, and there's a language."
And it's super competitive…
Yes, it's super competitive. A cappella is the improv world to music. And it also showed me the underdog element of the all-female group. My husband and I went to the ICCA (International Collegiate A Cappella Championship – yep) finals three years ago. And there was this all-female group that was beautiful but so boring I was like, 'Of course the guys are gonna win.' And that's when it all sort of clicked.
Why do you think the all female groups are the underdog? Is it because they can't hit that lower register to diversify the sound?
Most of the groups are more about being pretty and looking perfect than looking silly. The guys are doing back flips and all this crazy stuff. And, yes, I think not being able to beat-box and hit the low register. With the guys, there's always one or two who know how to do it, so that was the thing in this film about making quiet Lilly the one who learns how to beat-box.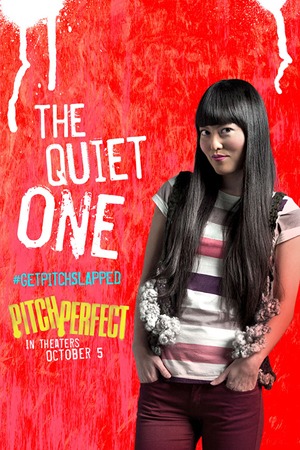 How much in the film was improv versus how much was on the page? When I look at 30 Rock the jokes are so tight there can't be any room for improv.
There's no improv in that show, yeah.
Yeah, I always think that there can't be because you'll lose your joke. So I'm wondering in this film, there are some amazingly quotable lines, but there is a spontaneous feel to portions of it. So what was the balance between improv and what you wrote?
For years I was saying I wanted to write a solid foundation of a script — a really funny script — and then encourage people to improvise. Really it was Rebel (Wilson) and Adam (DeVine) who improvised because they have improvisation backgrounds. But the name "Fat Amy," and why they call her "Fat Amy," and all those other jokes were all on the page, and of course all of the other characters. Liz and John Higgins Clark also improvised quite a bit (as the ICCA expert pundits). I wrote a lot of stuff for them, and most of it was in the movie, but there was also some improvising.
They were hilarious, like the Statler and Waldorf of competitive collegiate a cappella commentary. I think those characters really work for the same reason the film does: they represent familiar tropes in an unfamiliar world. And it's really strong dialogue. There's something fundamentally real and strangely relatable about where each of the characters is coming from – as big as the circumstances are.
For me it was Bring It On in an a cappella world, so I knew it was going to be a structure we've all seen before. But I worked really hard to make it a super funny script with characters you love; a bunch you want to hang out with. Audiences are even really relating to Benji (Ben Platt), and he's, like, the 50th character. So I tried to identify what the trope was and then turn it on its head a little with some meta jokes and stuff. I wanted to poke fun at, but also honor, a cappella. It's a weird world, but I love it, and they're super talented. So showing how talented they are was really important to me.
Was Bring It On the inspiration for the Becca (Anna Kendrick) character? The rebel girl who resists joining and then becomes one of the group's greatest assets?
Well none of the characters in the film is in the book, except in the book there is a new girl. And I needed someone to be the skeptic, so it could be sort of a coming of age story. So that's where that started; I watched Bring It On a million times and I went, 'Yeah, we need that outsider.'
To be the eye of the audience.

Yes.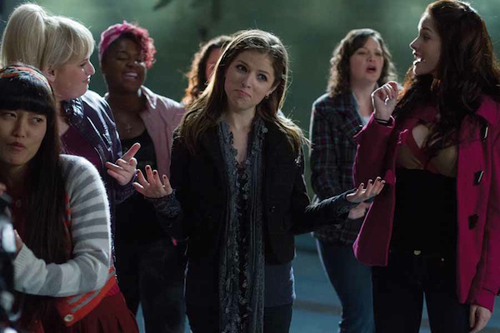 How much did your work intersect with the music supervisors, in terms of the song selections and where the music was leading the plot?
Rihanna's 'Please Don't Stop the Music,' which is the first song you hear, was in my first draft and made it into the movie. But for the shower scene between Anna Kendrick and Brittany Snow I had 'Gravity' by Sara Bareilles, which is now 'Titanium.' I just had things that captured the mood I was going for, and then the music people figured out which songs worked for the budget. In my version of the riff–off there were 17 songs, until Liz Banks asked, 'Is this a 100 million dollar movie?' So my dream number was cut down to 8.
That's a great scene. I also liked that Becca's friend/love interest, Jesse (Skylar Astin), was working to learn how to score movies, and that, to him, The Breakfast Club had the quintessential movie soundtrack.
Yeah, The Breakfast Club was originally Say Anything, but we couldn't afford 'In Your Eyes.' But I have a real love for The Breakfast Club, anyway, so, when it changed, it really worked.
It's almost like a happy accident, because, thematically, the idea of The Breakfast Club and these misfits coming together really is in line with what Pitch Perfect is about.
Absolutely. And I had a lot of fun writing the backstory for why he loved the film.
Another thing I appreciated was that the only mean girl in the film was a dude.

(Laughing) Yeah, that's true!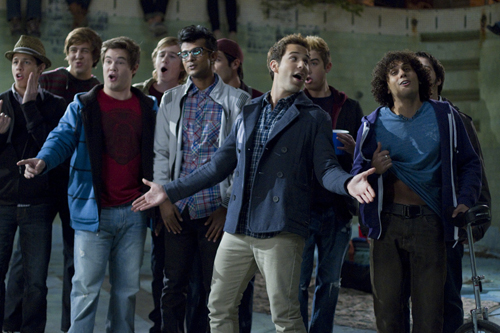 Okay, we're running out of time, so I'd love to hear what you're up to next. Can you tell me about your untitled television series?
I sold a show to Fox about NFL Sunday commentators. But we're not telling sports stories. It's a workplace comedy where the characters treat each other like family, and they're helping one another deal with life-changes. A female producer has never been single, the guys are dealing with their football careers being over, and things like that. I'm writing it now.
That sounds great. I honestly love this film and can't wait to see what you do next.
****
Pitch Perfect goes into wide release this weekend and this is one I can wholeheartedly recommend. The script and final film are just as smart, sharp, and good-natured as you would expect from the talented and imaginative mind of Kay Cannon.
AROUND THE INTERWEBS