No stranger to the ways of Hollywood, Gabe Uhr, one of the hilarious minds behind the new web series My Gimpy Life was kind enough to sit down with us and chat about all things showbiz.

Connect with Gabe on twitter and IMDB! Follow My Gimpy Life on twitter, Facebook, and Google +, too! Be sure to subscribe on YouTube!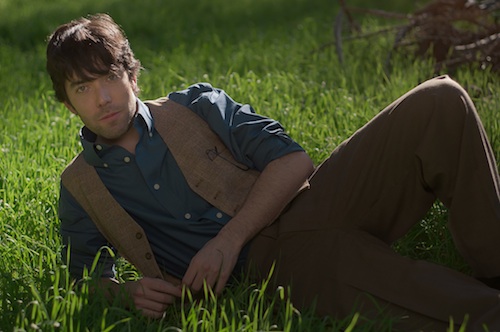 Photo: Carlos Jackson


We always ask this question and baking is totally manly these days. Sooo, what's your favorite cupcake flavor?

Not Red Velvet. Besides that, I don't discriminate.
What or whom inspired you to pursue a career in writing/producing?
The earliest storytellers I admired were Charles Schulz and Jim Henson, lots more after that.
What draws you to comedy specifically?
It's better than crying.
If Chuck Norris were to corner you in an alley and challenge you to a duel, what would be your weapon of choice?
The fetal position.
What are some challenges you've faced during your career as a writer/ producer and what, in your experience, has made those obstacles worth overcoming?
I'm still very much working in the minor leagues, doing non-union jobs, and I haven't overcome that yet. My dream is to run a sitcom and make an obscene amount of money, like the kind of money where you don't wear the same underpants twice.
What's the funniest thing you've ever heard/seen?
Hard to name one funniest moment, but vomiting is hilarious to me. Except when I'm the one doing it. Also, that video where the baby panda sneezes is pretty rich.
What's your favorite comedy movie or T.V. show of all time?
I just recently rediscovered Robert Smigel's TV Funhouse, the one that ran on Comedy Central in 2000. He's the best.
Which actor, dead or alive, would you love to work with/meet/write stories for?
Bill Murray seems like the coolest.
Can you describe your experience working on The Guild. Do you have a favorite character?
I'm part of their camera team and I'm responsible for downloading the camera files, backing them up, and then transcoding; it's a lot of work, and most nights I go home with a really sore clicking finger, but I fight through it.
As far as a favorite Guild character, I have to say Venom, but that brown guy has his moments too. Coincidentally, there's a character called Xabu on TV Funhouse.
What interested you most about being a part of My Gimpy Life?
Having Teal's original perspective on the tired tale of acting in Hollywood.
When you're not writing/performing, you're…
Unemployed.
The title of your autobiography?
With Great Hair Comes Great Responsibility: The Gabe Uhr Story
****
An now an excerpt from that biography.
Gabe Uhr is a comedy writer and producer in Los Angeles; he most recently worked on Kathy Griffin's late-night show for BRAVO. He knows all the words to "Call Me Maybe."
AROUND THE INTERWEBS