Who better to sport-f**k at Christmastime?  Santa and Mrs. Claus, of course!
Getting naked and nasty with the Kringles isn't so easy, however.  While Father and Missus Christmas are avid swingers, their lusty appetites generally only include banging elves and schtupping claymation penguins.  It's trickier to seduce this pair as a regular old non-magical human.  However, half the steamy fun is in the challenge.
Follow this 5-step plan and soon you'll be rolling in the holiday hay with the holly jolly couple.
Step 1:  Nog 'em.  Nog 'em Good.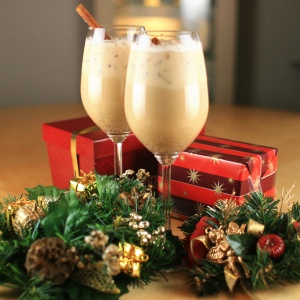 Source: NewEnglandFineLiving.com
Thankfully, the holidays provide an assortment of potent libations with which to lubricate your prey.  A thing to note about the Clauses is their affection for eggnog, as evidenced by their adipose waistlines.  Bring a special eggnog vintage to the North Pole; it's a great icebreaker.  Delicious and effective.
Step 2:  Red and Green Fishnets
Dressing like a holiday ho reminds Mrs. Claus of a younger, more carefree time.  Seeing you adorned like a peppermint hooker will encourage Mrs. Claus to whip off her overtaxed girdle, wrestle on a garter belt, squeeze into some crimson and emerald fishnets, and recall a time when she was banging a different elf every weekend.
Step 3:  Stocking Full of "Toys"
Just like Santa has a sack of presents, you, you little sugarplum fairy, can have your own bag of tricks.  Fuzzy handcuffs, hot wax, red sequined blindfolds: these little knickknacks can be just the segue you need to transition from flirtation to gettin' it on!  Whip out a candy cane vibrator, and you'll have the Clauses melting like Frosty in the afternoon sun.
Step 4:  Barry White Christmas Remix
This one requires a bit of advanced planning.  Sample Barry's smoothest hooks and lyrics and insert them into holiday tunes.  Put your iPod in the Claus's bedroom and they'll get into the mood as they hear the dulcet tones of Mr. White combined with the upbeat melodies of everyone's favorite Christmas songs.  Who could resist stripping to Jingle bells, jingle bells…I can't get enough of your love, babe, in a one horse open sleigh…Hey!
Step 5:  Spread it around like a Fruitcake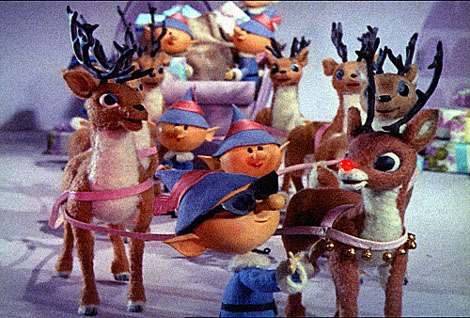 While you're bonking the Christmas duo, don't hold back.  Whistle out for Rudolph and his eight tiny friends to join in the nooky party!  Don't forget the elves or that poor, lost Inuit who wandered into Santa's village.  They can join in the Christmas orgy, too. Holiday cheer and orgasms all around!
There you have it, holiday fetishists!  Follow these handy steps and you'll be howling out "Ho Ho Ho Oh Yes!" in no time.
AROUND THE INTERWEBS