For years, superhero comic books have been taunting us with various "will-they-or-won't-they?" romantic story lines. But what if all the superhero romances we wish would've happened, really did come to pass?
Wolverine and Jean Grey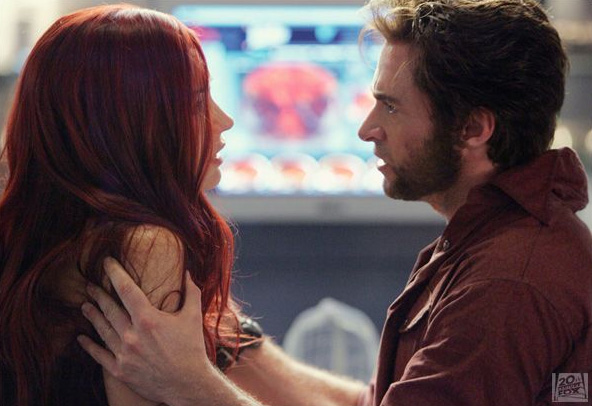 After Cyclops asks Jean Grey for an "open marriage," Jean calls the marriage off. Upset and distraught, Jean visits Wolverine's private cabin in the woods. There, Jean cries into Wolverine's shoulder while Wolverine consoles her. But after drinking far too many bottles of One Equis, they end up having "levitation sex." After the love-making is over, Jean gets dressed and tells Wolverine that she loves how their friendship is so strong and that they can fool around without letting their feelings get in the way. After Jean leaves, Wolverine shoots himself. Fortunately, because of his mutant powers, Wolverine doesn't die and his bullet wound heals in a matter of minutes. Meanwhile, his heart wound heals… never.
Spiderman and Peter Parker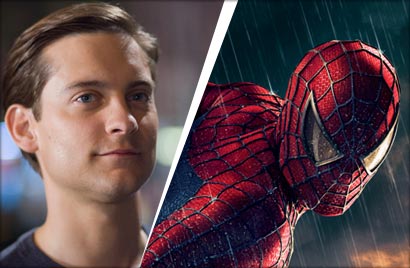 Peter Parker spends most of his time taking photographs of his alter ego, Spiderman. So, one day, Peter realizes that he doesn't have the hots for Mary Jane — he has the hots for himself!
After accepting himself as an autosexual, Peter Parker comes out to the public. A picture of himself and Spiderman are featured on the front page of The Daily Bugle with a headline that reads:
"I'm gay — for me!"
Peter's public confession coincides with the release of his new, intimate autosexualbiography entitled Me & Me, and his new album entitled, Music + Soul + Crime-fighting + No-STDs Ever!
Superman and Wonder Woman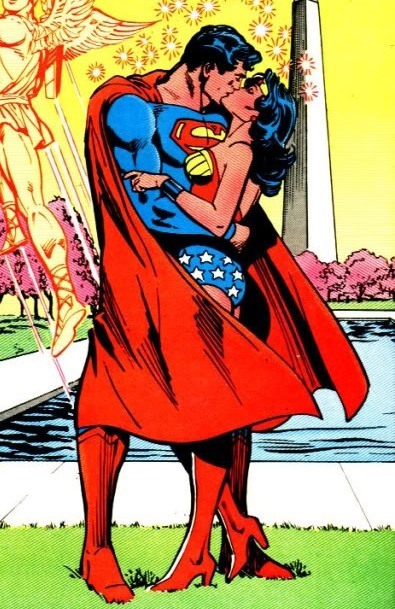 Source: FanPop.com
While on a crime-fighting mission with The Justice League, Superman falls for his co-worker, Wonder Woman. Not long after, Superman ditches Lois Lane and moves in with the new love of his life. The new couple adopts several underprivileged babies rescued from Krypton. Then, to add insult to injury, Superman does an interview with The Daily Planet in which he reveals that his marriage to Lois Lane was "pathetic." Lois tries to hurt Superman in return by dating Ant-Man; but, it's only when SuperMen's Health Magazine declares Lois Lane "The Sexiest Damsel in Distress of All Time" that Superman begins to regret losing Lois for good.
Batman and Robin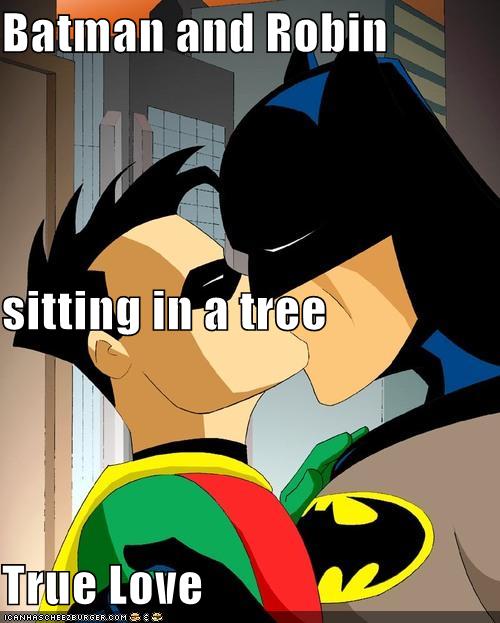 After returning from college, Robin stops by the batcave to check in with Batman, his old crime-fighting mentor from his high school years. When he sees Robin, Batman realizes that the Wonder Boy is a Wonder Man now, and that he's starting to feel something for his old sidekick that he never felt before. Later that night, while Robin sleeps, Batman caresses Robin's face. This wakes Robin up, and Robin, in shock, runs away and spends the rest of the afternoon wandering Gotham City. A year later, we find Robin at a mental hospital relating this story to a therapist. After saying that he thought Batman's behavior was "flitty," Robin reveals that the experience has made him want to be a superhero that protects children, like a "caped-crusader in the rye."
AROUND THE INTERWEBS