Rachel Dratch is the underappreciated comedy gift that keeps giving. From her myriad hilarious characters on SNL to her bit roles in movies, Rachel Dratch always brings the funny. Always.
If some of her characters had been allowed to grace the likes of cancelled TV shows, perhaps those forgotten small screen gems would still be on the the air today.
Debbie Downer on Animal Practice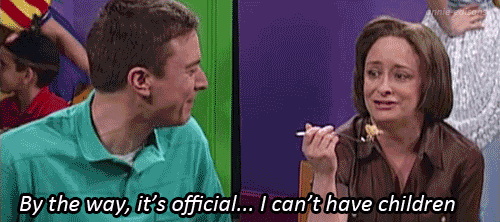 Debbie Downer gets a job as a vet tech in Dr. Coleman's animal clinic. Whenever George miraculously saves a beloved pet's life, Debbie chimes in reminding the pet owner of any of a number of sad truths. These range from how much longer the owner will outlive their pet, statistics about feline AIDS, detailed stories about her childhood hamster's tragic demise.
Sheldon on Don't Trust the B in Apartment 23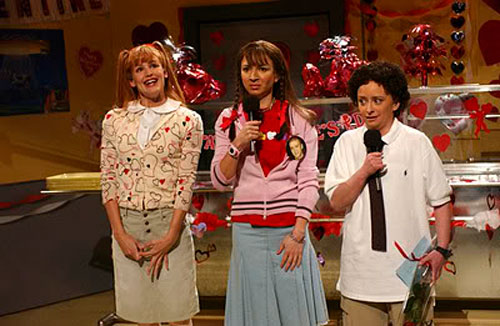 Chloe's dorky cousin Sheldon comes to visit the Big Apple while his parents are out of town in Israel. While visiting apartment 23 to borrow June's NIV Bible in order to woo a Christian foot model, James finds a kindred spirit in Sheldon; he reminds him of Pacey. James and Sheldon begin role-playing scenes from Dawson's Creek. James suffers a psychotic break from reality; Chloe becomes jealous and plans to destroy Sheldon on air back at Wakefield Middle School. June is forced to intervene.
Drootchie on Terra Nova
Tired of staying inside the boring Terra Nova compound, Drootchie and a few others escape and settle in the forest in an opposing hard-partying colony. Things really heat up when Drootchie gets punched in the face by a velociraptor.
Qrplt*xk on Ben & Kate
Ben and Kate nearly hook-up after a booze-fuelled PTA meeting. Thank goodness Qrplt*xk shows up drooling at Kate's front door, sobering the siblings and preventing the first ever case of on-air sitcom incest.
AROUND THE INTERWEBS